Posted on
Tue, Feb 22, 2011 : 5:30 a.m.
Fit Mommy: Jumping rope will help me get ready for Shamrocks and Shenanigans 5K race
By Eva Johnson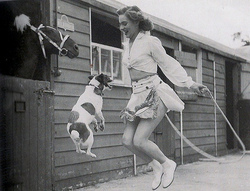 photo by flickr user picassoswoman
It has been a
long
winter... I hate the treadmill right now.
In a quest to try something new (indoors), I have spent some big bucks purchasing a jump rope! Wow, that was quite an investment, right? $2.49 plus tax was all I needed to acquire a cute new purple jump rope at Meijer.
I was actually inspired to purchase this rope because of a jumprope workout published in the February 2011 issue of the magazine, Real Simple. I thought that a jumprope workout would be perfect to get me into running shape for this spring. Even though I will not run outside during these Siberia-like conditions, I still need to be prepared to run the Shamrocks and Shenanigans 5K in Ann Arbor on March 13.
Why do I think jumping rope is a great idea for race training? Because running, while a wonderful way to raise the heartrate, is pretty high impact! The constant impact of my feet hitting the pavement causes me to get sore in my hips and shins. In order for me to run without pain, I regularly strength train my legs and try to get my body used to the impact before race day.
Now, enter jumprope workout. First, I had to find a place to jump (in my house) that wouldn't cause all the books and assortments of junk to fly off the shelves. I also had to find a place tall enough to handle the wild swinging rope...
Yeah, there wasn't any place in my house suitable, so I went to the gym in the empty (aside from two other strangers who were doing their own thing) aerobics room. I imagine everyone at the gym was probably trying very hard not to stare at me as I began to wildly jump around.
I started jumping in this 15-minute workout and quickly noticed (within the first five minutes) that I was red in the face, sweaty and needing to walk it off (don't worry, resting is part of this workout!). I could mange the basic jump fine, as well as their alternate foot jumps and a combination of the two.
I even made it through the high step jump, where you just bring your knees higher for a minute. The part that was the most difficult? The final "endurance jump" for five minutes. It was tough, and I had to keep looking at my watch because I was honestly pretty tired.
My reaction to this workout? Awesome for a great and fast cardio fix! I didn't need to run in snow or even spend much cash to feel very winded.
I liked that it was only 15 minutes of high intensity cardio. I also liked that this was such an inexpensive peice of equipment.
Note: If you have any knee or lower body joint sensitivity, I recommend that you try it out slowly.
Jump, jump, jump for joy!
Eva Johnson is an ACE (American Council on Exercise) certified personal trainer, who is now planning her shamrocks running outfit. Knee socks with four-leaf clovers will be included. She lives in chaos with her husband and two boys. To see her complete blog about how to stay sane and in shape in the real world, visit www.fitnessbyeva.com.