Posted on
Mon, Jan 31, 2011 : 3:44 p.m.
Fit Mommy: U of M gymnasts inspire kids to dance and Mom to work on balance and flexibility
By Eva Johnson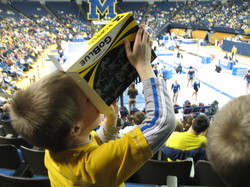 Photo by Eva Johnson
While
pondering
a good answer to the question, "What is fit?" I recently found inspiration while out and about with my family. My friends and I (and all of our kids) attended a
University of Michigan Women's Gymnastics
match at the
Crisler Arena
in Ann Arbor. Not only was I amazed by the athletic grace and power of the gymnasts, but I was also astounded at how much popcorn six kids could consume in one sitting.
As we watched all four teams in this quad meet compete (meanwhile watching our kids spill popcorn all over their own coats and attempt to vault themselves over the seats), I couldn't help but feel compelled to hold up the gymnast as a true definition of fit: They are graceful, yet extremely strong, they are flexible and still fearless. It motivated me to not only keep myself well-rounded in my own fitness, but to continue to motivate others to do the same. Being strong isn't necessarily fit. You must also have endurance, flexibility, balance and agility.
As they vaulted, danced, swung and flipped, (not the kids) the gymnasts inspired me to continue to incorporate balance training and yoga into my varied fitness routine. I hope to perhaps even master a headstand one of these days. No, I have no delusions that I will ever be voluntarily flipping myself high into the air over a vault, but maybe I can stretch myself a bit more, and still land safely on two feet when I jump train.
Even though I was a spectator and only burned calories during my 16-ounce Diet Coke bicep curls, I think all of us enjoyed seeing these women who are not only amazing athletes but beautiful as well. The music got us pumped up to get up and dance, and the kids were able to sit close enough to see the athlete's faces. I would encourage anyone who needs some fitness motivation to head down to Crisler to take in this fun winter family activity for a reasonably small ticket price! Go to mgoblue.com for a complete schedule. Meanwhile, your kids will have enough room to roam around in their seats a bit and see a live sporting event up close!
It was M-Fit and fabulous . . . with a side of popcorn!
Eva Johnson is an ACE (American Council on Exercise) certified personal trainer, who is still shaking out the popcorn in her kids' coats. She lives in chaos with her husband and two boys. To see her complete blog about how to stay sane and in shape in the real world, visit www.fitnessbyeva.com.