Posted on
Sat, Dec 11, 2010 : 4:34 p.m.
Fit Mommy: Essential gear for running in a winter wonderland
By Eva Johnson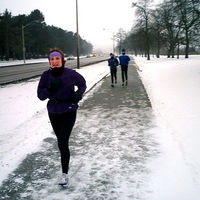 photo by flickr user wmacphail
I have a few friends who are training for a spring marathon. Right now! Even though the weather outside is frightful, they are staying delightfully warm. How? Because "running" technology is a beautiful thing!
Here are some of their recommendations for staying warm on your next winter wonderland run. Don't become Chilly Willy, frozen through and through. Instead, head to a running store (like
Running Fit
) and get some new winter gear. The first rule of thumb: dress as if it were 20 degrees warmer outside. This will prevent you from staying a little too warm.
Here's your checklist of the essentials:
Appropriate head coverings: Try a thermal hat, ski mask or a neck gaiter (worn mostly by skiers). I have also heard about great hats that have a hole for a ponytail. If you are a music addict like myself, you may like the earmuffs I saw at Target that contain earbuds.The key is to prevent all of the heat escaping outside of your head without holding in the sweat that will make you cold.

Clothing: Dress in layers, and find gear that is especially designed for running. As one of my friends told me "cotton is rotten." Invest in Under Armour or other breathable layers. You may be surprised to find out that you will be able to move your arms (unlike Ralphie's little brother in A Christmas Story) and still run comfortably in the coldest winter months.
Mittens/Gloves: Make sure to find ones that wick away moisture. Also, I would recommend mittens on the coldest days because these will keep your hands warmest.
YakTrax Ice Grippers: Worried about slipping? No need! These little shoe accessories slip over your shoes so that you can avoid slipping and sliding. If you find that puddles are a real problem, you can also spend more and get waterproof running shoes/boots instead.
Are you feeling motivated to try running in the winter wonderland? Or, do you run regularly in the cold? If so, please share your experiences and let me know what other equipment you find invaluable!
Eva Johnson is an ACE (American Council on Exercise) certified personal trainer, who has some crazy winter running buddies! She lives in chaos with her husband and two boys. To see her complete blog about how to stay sane and in shape in the real world, visit www.fitnessbyeva.com.