Fit Mommy: Take a food lesson from the kids, and only eat when you're hungry
Posted on Tue, Jan 11, 2011 : 2:12 p.m.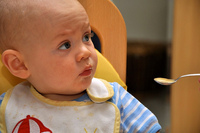 photo by flickr user Gael Martin

"I learned it from watching you!" That's what I remember from that old drug prevention ad... However, I am always amazed at what I learn from watching my kids. For instance, when my babies first started eating solid foods, it was an arduous process, for me and for them. You would think it would be as easy as just shoving a spoon in their mouth, but it is so much more complicated...

First, you put it in their mouth, if you don't miss and create sweet potato face paint on their chubby cheeks. Then, if it hits their mouth, they most likely make a weird face and spit it right back out at you. That's just the beginning of the tug of war with trying to get nutritious food into your baby. This process remains complicated as they get older. As much as kids need food, they most likely try to live without it. They only eat when they need to... And that is why I think that we should take a lesson from them.

Eat when you need to. Don't eat because 1) it is lunchtime, 2) the food is sitting there or 3) you just feel like cramming something in your mouth. Eat to live. Don't live for your next meal. Easier said than done, isn't it? I think so! It is easy for me to tell you to just eat when you are hungry, while in the meantime I feel like raiding the pantry for crackers, just because they are four feet away from me. Just for once, for them and for you, I will resist.

Yes, I learn new things every day from watching my kids...