Posted on
Mon, Dec 27, 2010 : 9:19 a.m.
Fit Mommy: Tracking your prints with a pedometer
By Eva Johnson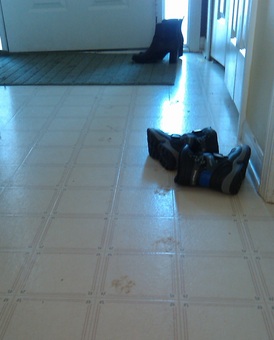 photo by Eva Johnson
My beloved doggie, Aspen, likes to track mud through our house, especially during the winter and spring months. I would like to say that I am ready to catch her and clean her paws every time she comes in, but that is a lot of work! Instead, I just let her in and then get surprised from time to time with a visual reminder of everywhere she has been. (I can't say that I don't have a few choice words to exclaim as I discover this mess)
It is amazing to see how many prints she tracks around in such a short time! Watching and cleaning up all of these prints makes me think about how many steps I take during the day.
Do you need a visual representation of your own prints? I would suggest buying an inexpensive pedometer to show you all the steps you have taken in and around your day. While you grocery shop, haul laundry around the house, or even just walk between your parked car and next destination, you can watch the steps you have taken that day.
Once you get an idea of your average steps per day, I would make it a goal to increase them by 10 or 20 percent per week. You could even make it a friendly spousal competition to motivate you.
Do you track your prints? I would love to hear how this has helped to motivate you!
Eva Johnson is an ACE (American Council on Exercise) certified personal trainer, who is dreading the weather warm up and the mud it creates! She lives in chaos with her husband and two boys. To see her complete blog about how to stay sane and in shape in the real world, visit www.fitnessbyeva.com.