Posted on
Fri, Feb 25, 2011 : 7:29 a.m.
Fit Mommy: Yoga Benefits for pregnancy
By Eva Johnson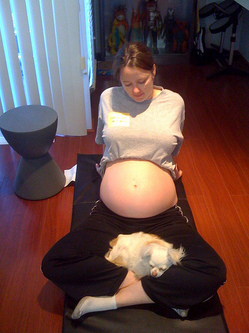 photo by flickr user tarabrown
I have heard that some of my friends are expecting and thought of them as I read some yoga news! In my latest IDEA journal (fitness journal for ACE certified professionals), I read that the American Academy of Orthopaedic Surgeons (AAOS) recommends yoga for pregnant women.
They state: "The rewards of basic yoga outweigh the potential physical risks, as long as you take caution and perform the exercises in moderation, according to your individual flexibility level."
I would recommend that you first discuss any exercise program with your doctor before starting, especially if you have a higher risk pregnancy. However, once you are cleared for this, I would also agree that yoga is wonderful for pregnancy.
When I was pregnant, I wasn't a fan of many poses because my center of gravity was off, and I really hated going from feet to floor all of the time. Here are my recommendations for yoga while pregnant:
1) Change poses per trimester: In your first trimester, keep in mind that you are your most mobile, so you can probably continue doing what you have been. As you get further into your second and third trimesters, you may want to modify poses and keep a chair or wall nearby for balance. You may also want to stick to the poses that make you feel the best and forget any of them that feel uncomfortable.
2) Don't overstretch: When you are pregnant, your joints, ligaments and tendons will get more flexible due to changing levels of estrogen, relaxin, and progestrone (ACE, 314). This increases your susceptibility to injury. Try to stretch to relieve muscle cramping or soreness, not to improve your overall flexibility.
3) Watch for signs over overdoing it: If you find yourself too fatigued or you feel like you may be increasing your blood pressure, stop! It is very easy to get fatigued and this doesn't benefit you or your baby. Listen to your body. Sometimes, a nap is the best activity for you! Your body is working very hard to simply keep both of you healthy, so it is not only okay, but mandatory that you let yourself off the hook. Don't let other moms make you feel bad because you aren't running miles or working full time. Every pregnancy is different and not all of us have the same amount of energy. Be body aware, not competitive!
4) While you are at it, work those kegels too! If you want to work some important muscles while you are pregnant, contract those muscles that you use to stop the flow of urine. These will help you avoid the embarrassment of laughing later (at your kids) so hard that you pee your pants!
5) Try some of my favorite pregnancy poses: I really liked to modify the following poses to keep myself feeling good throughout my pregnancy...
Full Butterfly-Sit and bend your knees, almost like in indian style, only bring your feet together. This is a wonderful hip opener and may even help you during delivery!
Cat stretches-On all fours, round your back and then arch your back. This feels wonderful on your lower back, especially since most pregnancies put pressure on the lower back. This relieves the pressure and strengthens your back.
Standing Side Stretches-While standing on both feet, bring one hand up and gaze up at it and then switch hands. This helps stretch the spine. You can also wrap your hands around your body and rotate your head from side to side to side to help spinal rotation.
Table (modified)-Take your forearms and place them on a table or counter. Bend forward, keeping your knees and back straight. This helps stretch out your lats and upper back. This is also another pose that alleviates pressure of the baby on your lower back.
Do you have any favorite yoga poses or pregnancy yoga tips? Please share. I wish you and your baby a healthy pregnancy and delivery!
Eva Johnson is an ACE (American Council on Exercise) certified personal trainer, who is hoping to help moms be "fit mommies" from the very beginning! She lives in chaos with her husband and two boys. To see her complete blog about how to stay sane and in shape in the real world, visit www.fitnessbyeva.com.