Posted on
Tue, Mar 2, 2010 : 10 a.m.
Fun family activity: It's maple syrup time!
By Tammy Mayrend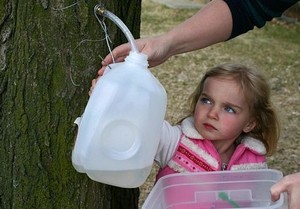 Tammy Mayrend | contributor
The birds are beginning to chirp out my window each morning, the sun is shining more often, and most importantly for maple syrup season, the days are getting warmer with cool evenings - this means the sap should be beginning to flow in the maple trees, and we can begin tapping the trees for maple syrup!
Tammy Mayrend | contributor
It's really not that difficult to do, either; tapping maple trees for their sap is an easy and fun activity for the entire family. Two years ago, my family and I attended the Sap to Syrup event with Faye Stoner through Washtenaw County Parks. We learned a lot and got to boil a small amount of sap to make enough syrup for one pancake dinner.
I suppose that was enough to give us the syrup bug though, since last year we tapped enough trees to make almost a full gallon of syrup! Yes, almost a full gallon! What's amazing about that is a gallon of syrup basically means we boiled down almost 60 gallons of maple sap.
Now you may not want to work that hard, but if you do want to teach the children wonderful (and tasty) traditions, I urge you to make your own maple syrup this year. A quick tutorial can even be found at my Michigan Backyard Gardening blog, or adults can learn more about making maple syrup with the Sap to Syrup program running this Saturday March, 6, from 1-4 p.m. Be sure to pre-register early.
Tammy Mayrend is a search marketing professional who blogs on local activities for families at annarbormom.com.