Posted on
Fri, Oct 15, 2010 : 8 a.m.
Mamas, don't let your daughters dress up to be porn stars
By Jen Eyer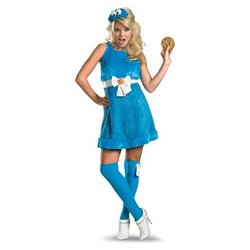 "She did it for the cookie."
That's the pitch line for "Sexy Cookie Monster," a new addition this year to the Halloween slutstume market, along with "Sexy Elmo" and "Sassy Big Bird."
What she did for the cookie — apart from sexualizing a beloved muppet — isn't clear.
What is clear is that Halloween has jumped the skank.
I realized recently that I no longer feel comfortable taking my kids to the local Halloween costume stores. The walls of costume photos featuring women with pouty faces, ridiculous cleavage and Hustler poses remind me of the old "adult section" of the video store.
Not that I'd actually know what that's like, of course.
Anyway, what's worse is the racy costumes are trickling down to the teen and even tween sections.
The descriptions on these costumes make it very clear what the goal of Halloween should be for a young girl.
There's Officer Bombshell: "You'll have fun pretending to call for back-up on the fake walkie talkie when you get mobbed by all the boys."
And Hot Firefighter: "This Hot Firefighter costume is smokin'! Are you hot enough to wear it? The fellows will line up to volunteer when you show up in this sassy costume."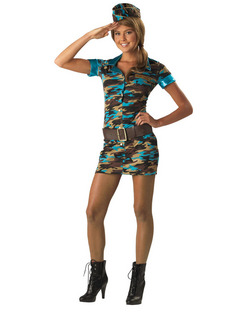 And
Major Trouble
: "Hey soldier, where do I go to enlist? That's what the fellows will say when they see you in this sassy Major Trouble tween costume!"
I know sexy costumes are nothing new. Back in the '70s my parents threw some awesome Halloween parties, with my mom rocking a French maid outfit. It had a short-ish skirt, lacy apron, and fishnets, but it also had a top that left something to the imagination.
Not so with today's French maid costumes. I defy you to find one that covers the lady lumps on either end.
I admit that I prefer to wear flattering costumes. You won't catch me walking around dressed up like a tomato or a clown. Back in college I thought I looked pretty good one year dressed as a kitten, in black leggings and turtleneck with red lips and cat ears.
Now, go Google "cat costume." I'll wait here.
Did you do it? Did you notice that the first few entries are for "Cheshire Cat" costumes that would look right at home in an Alice in Wonderland porn parody?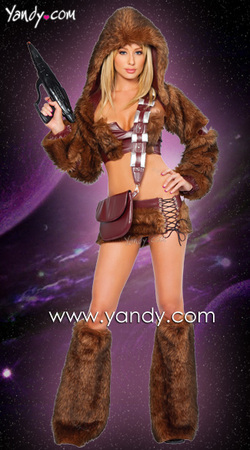 Lest you think I'm a prude, I'm going to state for the record: I don't have a problem with grown women dressing as porn characters. Halloween gives everyone an opportunity to be someone else for a while. If it's your heart's desire to be
Sexy Chewbacca
, go for it.
But don't try to pretend it's the real deal.
And please, don't let your girls dress up as porn characters. Don't let them succumb to the notion that Halloween is all about getting attention from boys. Halloween has a long, rich history; share it with your kids. Tell them how 2,000 years ago people used to wear masks and costumes to mimic or placate evil spirits, and that's why traditional costumes are based on witches and goblins.
Maybe, when connected with the historical traditions, dressing up like Major Trouble will start to look like the desperate, attention-seeking act that it is.
Jen Eyer is on the Community Team at AnnArbor.com, and oversees the Parenting and Pets sections. Contact Jen at jeneyer@annarbor.com or 623-2577.