Posted on
Fri, Jul 1, 2011 : 2 p.m.
Holiday weekend event roundup: Parades, fireworks and free events
By Tammy Mayrend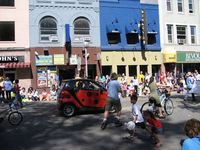 Photo by Flickr user Bnhsu.
For families staying home this Independence Day weekend, there is plenty happening. From parades to fireworks, to free crafts and events. Find something of interest for every member of your family!
Friday, July 1 events:
If staying closer to Ann Arbor is what you are looking for, then consider a couple of free crafty events for the kids. From 11 a.m.-5 p.m. at Tree Town Toys (2611 Plymouth Road, Ann Arbor), kids ages 5 and older can create their own rocket from a toilet paper roll, string and a balloon for rocket ship fun. Also at 2 p.m., kids (pre-kindergarten through grade five) can create their own 4th of July craft at the Ann Arbor District Library - Pittsfield branch (2359 Oak Valley Drive, Ann Arbor).
In the afternoon head over to the Lakeshore Family Fun Event to find a carnival atmosphere with three nights of fireworks, amusement rides, a petting zoo, a live shark encounter (hopefully NOT in Ford Lake!), a car show, talent contest, arts & crafts, on-stage entertainment, and much more! Everything except the carnival rides is free for the family. At dusk the event is even hosting the first of three nights of beautiful fireworks! The fireworks can be seen over Ford Lake (2500 Lake Shore Dr., Ypsilanti ).
Saturday, July 2 events:
Search local history by taking a tour of the Waterloo Area Historical Society Farm Museum (13493 Waterloo-Munith Road, Grass Lake). Tours run throughout the weekend 1-5 p.m. at a very reasonably admission price ($5 for adults and $2 for children), allowing families a better understanding of farm life in a long-lost era.
For the musically-inclined, there is something to do Saturday as well. Find a free class at 10 a.m. for kids ages 6-8 at Tree Town Toys. Kids will learn to use their voices, bodies and instruments to explore music and movement. To reserve your spot, call 734-929-6545.
If you didn't get the change to see fireworks on Friday, they can bee seen at dusk once again over Ford Lake (2500 Lake Shore Drive, Ypsilanti ) or over Whitmore Lake.
Sunday, July 3 events:
Sleep in and relax, and then pop out to take the kids to get slimed! From 1-4 p.m., kids can make their own slime at Tree Town Toys. Slime is a mixture of glue, water, food coloring and Borax that you surely don't want messing up your own home, so head over for the low cost event for a science experiment they are sure to remember. Your children will get to keep their own bag of slime for only $1.
Then after dinner, stroll on over to the Ingalls Mall (915 E. Washington St., Ann Arbor) at 6 p.m. to see Recess Monkey. The free concert sponsored by the AADL will provide kid-friendly, parent-loved music and humor in high-energy sets the whole family will love; Rocking in Independence Day couldn't be more fun.
Close out the night with fireworks in one of three locations. All three displays go off around dusk (around 10 p.m.). The Manchester Fireworks Display is located 30 minutes southwest of Ann Arbor in Carr Park (600 W. Main St., Manchester), the Lake Shore Family Festival Fireworks happen over Ford Lake (2500 Lake Shore Dr.ive Ypsilanti ). while the fireworks at Hudson Mills Metropark are located 20 minutes west of Ann Arbor (8801 North Territorial Road, Dexter). All of the displays are free but require minimal fees for vehicle entry.
Monday, July 4 events:
Parades, parades and more parades, many even offer kids the opportunity to decorate their bikes, trikes and wagons and participate in marching in the parade! Ann Arbor, Ypsilanti and Whitmore Lake all have events that day, find specific times for July 4th parades at the Ann Arbor Mom blog.
Finally, wrap up the weekend with more fireowrks at Willow Metropark located 25 minutes east of Ann Arbor (17845 Savage Road, Belleville).
Whatever you choose, make sure your holiday weekend is fun and safe - Happy Independence Day Ann Arbor!
For the latest events and activities for families, kids of all ages, youth and teens, be sure to check out the Ann Arbor Mom blog — Your source for family events and activities throughout Ann Arbor and surrounding communities!
Tammy Mayrend is a Ann Arbor search marketing professional and mother of two who blogs on low-cost local activities, events, and Ann Arbor area freebies for families at annarbormom.com.