Posted on
Wed, Jul 14, 2010 : 8 a.m.
How does your garden grow? Our family's attempt at gardening
By Theresa Bassett
Many years ago, we had a garden. The kids loved it, especially harvesting the big tomatoes or the zucchini. I remember my girls using their shirts to hold all of the tomatoes that they had gathered. As the years passed, we lost our way and gardening didn't happen. Until this year.
Actually last year, I was inspired by the Four Square Society. They encourage people to make 4-by-4 garden boxes in which you could plant up to 16 plants. After a little investigating, I decided I would make two 8-by-4 garden beds.
I went to get some lumber and was thrilled to find what I needed in the damaged or seconds pile. I think all of the wood I bought cost less than $4. After putting them together with the help of my kids, I had compost delivered and filled those boxes. And that is as far as I got last year.
Memorial Day came and went and no plants were planted. I did however lay the ground work for this year. So this year, we started some plants from seeds. I still find it truly amazing that a plant starts from such a small seed. And when that first little sprout comes up, how that later grows into a strong stalk. The kids are duly impressed as well.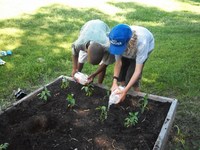 Theresa Bassett | Contributor
So our seeds did not fare well with all of the rain we got in the spring and a lot of them molded but the pumpkin and the sunflower made it, along with some basil and tomato plants. To round out our garden we did spend about $70 on plants.
We got the plants into the ground before Memorial Day. A month and a half later, the plants are all doing well. We use no chemicals. We have had a couple of deer and some rabbits visit in spite of my little fencing but have lost only the spinach and a couple of plants so far. Seeing a deer with her fawn was pretty spectacular and worth the missing spinach plants.
We started harvesting some. The kids love the harvesting part. They have a basket that they take with them and are very careful to take just what we can use or give away. We have lots of lettuce and have harvested basil, parsley, dill, thyme and peppermint.
The yellow peppers are coming in. The tomato plants are growing. Today they collected 10 pickling cucumbers. The kids are excited to see if we will get pumpkins and cantaloupe.
Whether this has a huge effect on our grocery bill remains to be seen but I like the larger lesson that my kids get to see their food in the making. They are most proud of those plants that they started from seed as they have tended them, replanted them and watered them. They see the work that goes into all of this care.
I also like that we can grow food without chemicals. I like that the kids are willing to try the things that they picked from the garden. Yesterday we made pesto. If was funny because it did taste different and at first they were a little skeptical until we talked about how fresh and not-so-processed food can taste different.
Today we made pickles using three different kinds of brine. We had a Asian style using rice wine vinegar and sugar and another using dill (from the garden as well) in a typical vinegar, salt and water solution. The third was a bread and butter type using a vinegar, sugar, turmeric and salt solution. We didn't even bother to do the entire canning process as these pickles will be gone in a matter of days.
During World War II, people grew victory gardens which were encouraged by the government because costs to transport and grow fruits and vegetables limited what people could get. Last year Michelle Obama played a big part in establishing the White House garden. It is the first White House garden to be planted since Eleanor Roosevelt's own victory garden. Michelle Obama is motivated by healthy eating and nutrition. The garden is both organic and has its own honeybees for pollination.
Our little garden plot looks nothing like the White House garden but it is our contribution to helping to provide for ourselves healthy and nutritious food. It has been a great project to do with the kids. In hindsight, it would have made for a great science project and I wish I had weighed all of the produce that we were able to collect.
My hope is to do this every year. We have learned a lot and it can only get easier!
Theresa Bassett is a parent to six children. Passions are kids, adoption, transracial and alternative families. Reach her at theresabassett1@hotmail.com