Posted on
Tue, May 25, 2010 : 1:10 p.m.
How to talk about raising kids without igniting the mommy wars
By Jen Eyer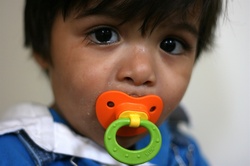 Photo by Flickr user Jen SFO-BCN
A story in today's USA Today asks:
Why do mothers judge one another and their parenting?
Partway through the article is this nugget, which I think gets to the heart of the matter:
Many modern parents feel inundated with information and overwhelmed by choices, (psychotherapist and author Jenn) Berman says.

Parents who have researched and agonized over their choices — such as whether to use a pacifier, co-sleeper or baby sling — may feel a need to defend them, she says. Parents may wonder: If I've made the wrong choice, does that mean I'm endangering our children?

"Oftentimes, it can seem like a threat to see someone else deciding differently," Berman says.
A good friend who has older children provided an excellent example to me on how to talk about parenting issues without offending. She offered advice only when asked, and even then she always qualified it with the attitude that "this is what works for my family, but every family is different." As in:
- I co-slept with my children, but that's not going to work for every family.
- We didn't use pacifiers for our kids, but some kids might really need them.
- We allowed our children to roam free rather than use a playpen, but that may not work for you. It just depends on your house.
The recognition that there is no one way to parent can make the difference between a mother feeling supported or criticized.
I'll never forget the time I was basically called a bad parent by another mother on the 1,800-member Arborparents Yahoo group, because I dared to admit that we used a form of "controlled crying" to get our son to sleep on his own.
Ironically, I was responding to someone who had posted an article alleging that "crying it out" causes irreparable harm, and my point was that for some families, the known benefits to the child of the mother getting a good night's sleep can outweigh the potential risks of crying it out.
Still, this mother thought she knew what was best for my family. Even though I was not asking for advice, she dispensed it — what I should be doing, what my husband should be doing — and stated that although it wasn't easy, she and her husband made the choice to parent their kids no matter what time of the day or night (as opposed to my husband and me, I suppose, who were shirking our duties).
But even acknowledging one size doesn't fit all may not be enough to avoid hurt feelings in our closest relationships — those with sisters and mothers.
There have been several occasions of serious tension between my mother and me over our different parenting styles. On the last occasion, we had a good heart-to-heart, in which it became clear that she sometimes perceives my doing things differently as a rejection of how she parented me.
I was struck by the fact that it still matters to her after all these years. And I made sure she understood that I felt it was natural for our parenting styles to be different — we're living in a different world, with new information and new societal norms. But in no way was I judging her performance as my mom.
What about you? How do you navigate these tricky discussions, or what was the worst example of someone giving you unwanted parenting advice?
Jen Eyer is on the Community Team at AnnArbor.com. She oversees the Parenting and Pets sections, and writes feature stories, blog posts and opinion pieces. She can be reached at 734-623-2577 or jeneyer@annarbor.