Fit Mommy: Walk the line — country line dancing, that is
Posted on Mon, Nov 8, 2010 : 7 a.m.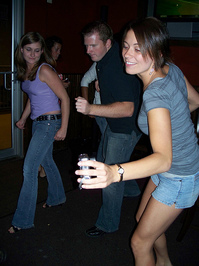 photo by flickr user rawmustard
I walk the line, but not the same line that Johnny Cash was intending here. Here's a confession: I was raised on and still like country music. A lot. While many of you were listening to Monster Ballads, I was listening to Dolly Parton and Kenny Rogers. Today, I listen to Carrie Underwood and the Zac Brown Band. I was truly country when it wasn't cool!
Not only are my parents still fans of country music, but country line dancing as well. Every week, they like to go down to our local Diamondback Saloon (diamondbacksaloon.com) in Belleville, and perfect their kicks and two step. I think it is a great way for them to stay active and in shape, in a fun way! Back before the kids were born, I also liked to join in from time to time, but it is hard enough to have time to just to step out of the house!
Have you ever wanted to try to country line dance? It is fun and aerobic! Just try it out on a dance lesson night at the Diamondback Saloon.
On Wednesday, Thursday, and Sunday nights, they have a Beginner and Intermediate Line Dance class for $5. It is a great way to learn some steps without any need to be nervous. The saloon isn't busy, and you can feel free to go and dance without a crowded atmosphere. I have seen beginners in every class that I have attended. Class times may change, so I would recommend checking the Diamondback's website first before heading over!
If you don't want the saloon environment, take a quick look in the Ann Arbor Rec and Ed catalog for a class with Earleen Wolford. Earleen is one of the country's most accomplished line dance professionals with countless trophies for both competitive dance and dance choreography (according to the Diamondback). She teaches at the Diamondback and in Ann Arbor.
Try a two step or country dance, especially if you need to shake up your fitness routine or just want to shake your hips!