Posted on
Fri, Jun 18, 2010 : 10:55 a.m.
I've sworn off the Internet ... starting tomorrow
By Heather Heath Chapman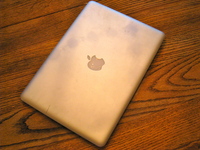 First, I sent out a farewell e-mail.
"Goodbye for now," I wrote to a few close friends. "Starting today, I'm going offline."
Then I closed my laptop and rested my hands on its warm lid. There. I was doing it. I was quitting the Internet cold turkey.
Right away, I felt relief, like an anvil had been lifted from the space between my ears. I'd been sluggish lately, moving slowly. And, I suspected that my computer was the boss of me.
So starting now, I was going to live in the moment, unfettered by technology.
E-mail pings and pongs would no longer beckon from across every room. Countless random Googlings wouldn't slow the forward momentum of my days.
I gazed around the kitchen and saw my surroundings—really saw them—for the first time in a long while.
Holy cow, I thought to myself. Is that a giant smear of jam on the kitchen window?
Automatically, I reached for my laptop, then stopped. Aha. Faced with the prospect of housework, I'd had a sudden, strong urge to Google myself.
Well, I wasn't going to procrastinate like that. I had vowed to live in the moment.
This moment.
Now this one. Now this one.
Dum dee dum.
Living in the moment was a little boring.
But maybe I was doing it wrong. What would I find, I wondered, if I grabbed my computer and researched "living in the moment?"
Probably something pretty awesome.
I looked lovingly at my laptop. The answers were in there. All I had to do was lift the lid, and…
Half an hour later, I'd learned that the key to living in the moment is breathing deeply. Also, that those horns at the World Cup are called vuvuzelas. And that Paula Abdul thinks Simon Cowell will make a great husband.
Just as I was about to click on a link to Cameron Diaz and Her Changing Looks, it occurred to me that I might have gone astray. So, I put my computer on top of the refrigerator and took another look at the jam smear. Before I even found the Windex, I heard a pretty "ping!"
I stopped on point, like a terrier. If I'd had little terrier ears, they'd have been standing straight up.
I had mail.
OK, so I was losing my own inner struggle. Big deal! This e-mail could be something really important. An emergency, maybe. Or maybe I'd won a cruise!
When the screen lit up, there were two messages. Both of them were from President Obama.
"Heather Chapman," he'd written in duplicate, "will you stand with me for a clean-energy future?"
Maybe it was time to try the breathing thing.
Deep breath in. (Internet—bad.) Deep breath out. (Inner peace—good.) Deep breath in. (The house smells like bacon.) Deep breath out. (Whatever happened to Steve from Blue's Clues?)
Whoa, whoa. Where did that come from?
Well, it didn't matter. I was NOT going to Google Steve from Blue's Clues. Even though I'd heard that he might be dead. Poor guy. Or not. I would never know! Because I had given up the Internet cold turkey!
An hour later, I'd learned that Steve is not dead. But that he is bald. And that Nebraska football coach Bo Pelini played free safety at Ohio State from 1987 to 1990. And that archaeologists found a 5,000-year-old shoe in Armenia. And that Sarah Palin and I have the same maiden name.
And, I'd signed up for my first-ever Twitter account.
When my husband found me, I was leaning toward the glow of my laptop like it was a tractor beam. I know my mouth was slightly agape, but I've asked my husband not to tell me if I was drooling.
"Come to bed," he said gently. "You can try again tomorrow."
Heather Heath Chapman is a writer and a mother of two. You can reach her at heatherchapman1@me.com. Or, check out her new Twitter account: twitter.com/HeatherChapman. (Currently, she has zero followers.)