Posted on
Thu, Jul 14, 2011 : 5:59 a.m.
Social media and other forms of technology can help you keep track of kids while granting some independence
By Angela Verges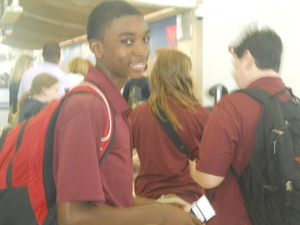 Angela Verges | Contributor
When my son prepared to travel out of the country without me, my first thought was, "How will I know he's ok?" We purchased an international phone for convenience, but my son also took his iPod. He said he would Skype me.
One week passed with no Skype, text message, face book message, nor phone call from my son. He had permission to use social media to communicate but didn't take advantage of it.
Parents have many concerns about safety when it comes to kids using social media. When is the use of social media and new technologies appropriate as it relates to kids?
In today's age of technology, we see more and more kids getting cell phones at an earlier age. The good thing about this is that it's easy for them to call if there is an emergency or to text you if they need to be picked up from somewhere. The down side to young kids having a cell phone is that it can be a distraction if they are used in school (www.hightechdad.com).
Teenagers seem to be their own special breed. It is no longer cool to be seen walking too closely with adults when friends are around.
They also don't want you to ask too many questions about anything. Such questions as, "What time is the event over? Will parents be there? Who will you ride with?" seem to send my son into convulsions. His face frowns and his body jerks as he says, "Ma, never mind, I don't want to go."
I do realize that as kids grow older they need more independence. Loosening the reins a little meant learning to communicate on my sons' level, to a certain extent. I learned to text. Lol. I can send my son a text to check in on him, and his friends don't even have to know it's from mom.
A writer at dadomatic.com said it best when he said, "Take advantage of all the ways our teens communicate with each other. Use those same methods to communicate with them."
My son finally communicated with me through a message on Facebook while he was out of town. Granted it was one short phrase — no subject, verbs or predicates — but it wasn't really the time to be concerned about grammar. The bottom line was that I knew he was fine.
What do you think about giving your child a little "controlled" freedom? How do you let him do those things which allow him to grow as a young man and, at the same time, keep in touch with him?
Angela Verges is a writer and mother of two. She can be reached at awritersdream41@yahoo.com.