Posted on
Fri, Nov 4, 2011 : 6 a.m.
Kids can help stop the spread of germs- here are tips to show them how
By Angela Verges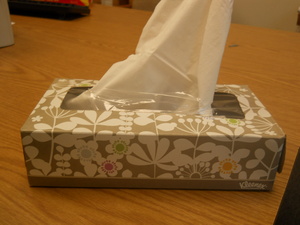 Angela Verges | Contributor
While driving the morning carpool the other day, I felt trapped in a realm of germs. My son sneezed consecutively as he reached for the tissue box. I shifted away from him and continued to drive. I could only imagine the invisible scattering of germs lingering the air.
As cold and flu season rears its ugly head, I've drawn the conclusion that its time to review germ-fighting techniques with the kids. What do you teach the kids about fighting germs? An article at About.com lists a few tips easy for kids to remember.
The first tip to help prevent germs is to wash hands often. As adults, we understand the importance of hand washing to keep from getting sick. This message has to be taught to kids and reinforced.
As a child, I was told to sing Yankee Doodle while washing my hands as an indication of how long to wash. When I told this to my children, they said, "Who is Yankee Doodle? We don't know that song." Singing happy birthday two times is the technique to tell today's children.
A second tip for preventing germs is to cover a cough. The article says, "Kids need to be taught to cough into the crook of their arm, into their sleeve, or even in their hand, but wash their hands immediately."
The final tip for preventing the spread of germs is to avoid close contact with people who are sick. This may be the time that you back away from people (in a nice way) when they tell you they have a bad cold. The article says, "If you or your child is the one sick, encourage others to keep their distance to minimize the spread of the illness."
If you're looking for creative ways to teach young children about fighting germs check out the following web site, www.dgerms.com/CONSUMER/pages_kids/kids_coloring.html. This website has printable coloring sheets that can help stimulate a conversation about germs.
What works for you when teaching kids about fighting germs? Leave a comment in the comment section.
Angela Verges is a writer and mother of two. She can be reached at awritersdream41@yahoo.com.