Kids meal toy ban is disappointing to children only?
Posted on Wed, Nov 10, 2010 : 3:09 p.m.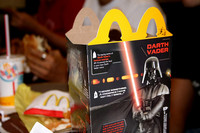 Photo Flickr user jasonippolito
The tiny blue thing clutched in my son's 4-year-old grasp became even more objectionable when my son excitedly exclaimed that he had to go see the movie that these "toys" came from. While this normally would not have been an issue, my son was too young to see Avatar! And the toy in question was the current Happy Meal toy being pimped by McDonald's.
At the time I remember being angry. Why would McDonald's include a toy for a movie that was PG-13 and clearly not for children under age 13? This wasn't the first time I noticed inappropriate toys; however, since my son was now old enough to ask to see this particular movie tie-in, I was appalled.
When I dared mention it to friends with older children, they basically told me to get over it and get used to it. After all, Happy Meals toys were iconic, even historic, and should be considered a passage to parenthood. I would simply need to be the parent and say no! They were right.
As my children are now a few years older, I know when to avoid the drive-through fast food lanes when inappropriate toys are offered. It seems now that I may not have to worry about our occasional Happy Meal toy, though. With the city of San Francisco banning fast food kids meals with toys, I'm wondering if other cities across the nation will do the same.
Do you think that banning toys from kids' meals will prompt fast food establishments to serve healthier meals? Will it disappoint you if toys are removed from kids meals? Is it OK for government to step in and tell us which meals can and can not have toys included?
I know that I won't be disappointed to see the toys removed from kids meals. Happy Meal toys can be collectables and big on eBay and other websites, and they were great fodder when I had a "potty training basket of goodies" going; however, I throw out so much of it three months later that it seems wasteful to me!