Posted on
Wed, Nov 11, 2009 : noon
Lesson from (overblown) Maclaren stroller recall: Don't put your fingers in the hinge
By Jen Eyer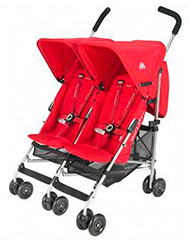 Parents are up in arms
over the Maclaren stroller recall. 
Over the past decade, a dozen children have gotten their fingertips amputated after putting them in a stroller's hinge as it was being opened or closed. On Monday, Maclaren voluntarily recalled one million strollers, saying parents should immediately stop using them until they obtain a free hinge cover from the company. The Consumer Product Safety Commission offered the same warning, and they're now looking into other stroller brands as well.
While I understand that it would be awful for this to happen to your child, and I think it's great that they're offering a retrofit that makes the hinge safer, I'm going to say it: I think this story is overblown.
As a parent, I would expect something really bad to happen if my child put a hand anywhere near the stroller hinge as I'm opening or closing it. If one of their fingertips had been amputated — God forbid — I certainly wouldn't think it's the company's fault. That hinge is meant to be strong. Little fingers are not. It's called an accident, not a product defect.
But parents everywhere are now being quoted as saying they won't use their stroller until they get the replacement part, while others are saying they're so mad, they won't support Maclaren anymore, period.
And, according to the New York Times, in the Brooklyn neighborhood of Park Slope — center of the helicopter parenting universe — even parents who feel it's safe to keep using their Maclaren stroller say they won't, for fear of being labeled a "bad parent."
I think it's telling that in the UK, where Maclaren is headquartered, the company isn't issuing a recall or even offering to sell the hinge cover to customers — despite one official report of an injury occurring there. After consulting with trading standards officials, they determined that risk of injury is non-existent when the strollers are used correctly.
Maclaren said in a statement: "As further reassurance we have updated our operating instructions and placed a warning label on the buggy to ensure that customers take care and keep children away from the buggy when it is being folded or unfolded. 
"Our advice is that consumers should take the same level of caution and care as when opening or closing a car door or any other moving part that can be found in many other baby and toddler products."
This Q & A in the Guardian alludes to the fact that we're just a little crazy here in the U.S.:
Why are the products being recalled in the US and not the UK?
A spokeswoman for Maclaren says: "The US is considered a different market with different requirements", but would not comment further on why the two markets were being treated so differently. Maclaren's spokeswoman says the buggies "exceeded European standards, which are higher than those in the US."
Let's call it what it is: different market = litigious market. Instead of telling parents to use common sense and keep their kids' fingers away from the hinges, we had to have a massive recall and a lot of mass hysteria.
I think it's great that they're offering the hinge covers, but I also think the advice about not using the stroller until you get the covers is based purely on the threat of litigation.
Lawyers are already being solicited on ClassActionWorld.com. Anyone want to wager on how long before someone files a lawsuit?
Jen Eyer is on the Community Team at AnnArbor.com. She can be reached at 734-623-2577 or jeneyer@annarbor.com, or you can visit her at 301 East Liberty. "Save My Sanity" is an occasional feature looking at "scare" stories in the media.