Posted on
Wed, Nov 16, 2011 : 8 p.m.
Make your own Chinese lantern with common home supplies
By Ann Arbor Art Center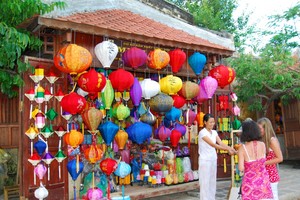 Photo by Flickr user GlobalCitizen01
In this activity, you and your child can create a Chinese Lantern using a few common home supplies.
The History of Chinese Lanterns
Chinese lanterns have been an icon of Chinese culture since 230 B.C.E. These lanterns typically announce good news or demonstrate wishes for good luck. Early lanterns were made out of a bamboo frame, with a thin, oiled paper wrapped around it. Since then, they have evolved into the modern equivalent, made with a thin metal frame and paper.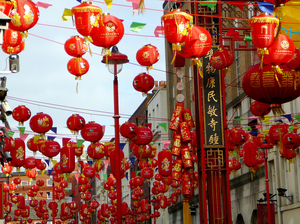 Photo by Flickr user noggin_nogged
Since 230 B.C.E, the lanterns have been displayed at the Chinese Lantern Festival, which takes place on the 15th day of the New Year. During this festival, people gather in the streets and hang their lit lanterns high, in an attempt to communicate with their deceased relatives.
People also string dozens of lanterns around their home to bring good luck for the New Year. During this festival lanterns create a beautiful tunnel of light, often surrounding entire streets. The lanterns are decorated with traditional Chinese characters, representing different phrases to celebrate the New Year.
Make your own Chinese Lantern
You can make this lantern in: half an hour
What you will need:
Construction paper
Scissors
Glue stick
Ruler
Markers or paint (if using paint, additional drying time is needed)
Decorations such as glitter, sequins, string (optional)
Hole punch (if using string)
Step 1:
Position your paper with the long edge facing up, and draw a design with markers, or paint a design (let paint dry before moving on to step 2) Be creative! Try painting or drawing a Chinese character.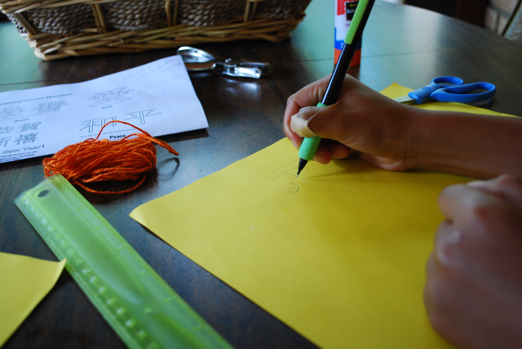 Photo by Ann Arbor Art Center
Step 2:
Fold your paper in half lengthwise. Along the folded edge, cut evenly spaced slits, one inch apart, leaving about an inch at the top of the paper.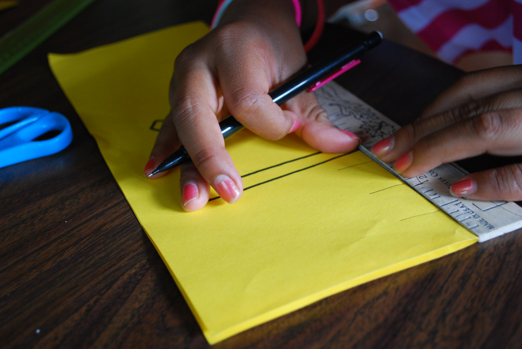 Photo by Ann Arbor Art Center
Step 3:
Unfold your paper. Glue the short ends of the paper together using a glue stick.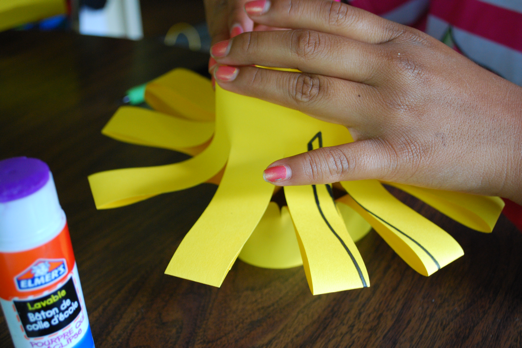 Photo by Ann Arbor Art Center
Step 4:
Spread the slits out to create a lantern effect.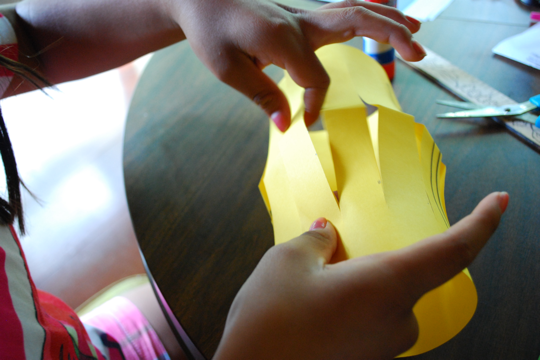 Photo by Ann Arbor Art Center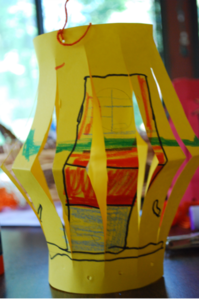 Photo by Ann Arbor Art Center
Step 5:
Attach a handle to your lantern using a paper strip, or, use string. Add any embellishments and tassels, and then hang your lantern up! Hang your lantern up for whatever you are celebrating.

Think about this:


What celebration will you use your Chinese lantern for?


Can you think of other holidays where people hang up lights to celebrate?


What New Year's traditions do you have?


How do you decorate for holidays and celebrations?


Print and share this activity!
To print this activity, please download and save the following PDF to your desktop Chinese Lanterns How-To.pdf



This Creativity Corner activity has been brought to you by

See more Creativity Corner articles here.
The Ann Arbor Art Center is a non-profit organization dedicated to engaging the community in the education, exhibition and exploration of the visual arts. Offering studio art classes, workshops, exhibitions, summer camps and more, the Art Center is celebrating over 100 years of being the place where creativity and community meet. For more information please visit www.annarborartcenter.org or stop by the Art Center located at 117 W. Liberty in downtown Ann Arbor.