Posted on
Wed, Dec 14, 2011 : 6 a.m.
Make your own Huichol yarn painting
By Ann Arbor Art Center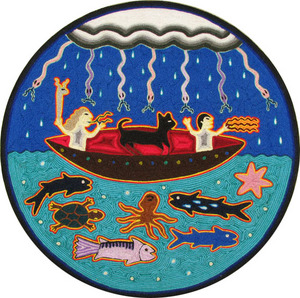 Photo by Flickr user Kelly Hart
In this activity, you and your child can tell a story by creating a Huichol Yarn Painting using a few common home supplies.
The History of Huichol Yarn Paintings
Huichol yarn painting comes from the Huichol (pronounced "wee chol") Indian people, who live in western Mexico in the Sierra Madre mountain range. The yarn paintings traditionally depict Huichol myths and ceremonies, but modern works can represent stories of today's world. These works paint a picture that expresses the beauty and wisdom of traditional Huichol culture.
Nature is a common theme in the yarn paintings, as the Huichol Indians rely heavily on the earth for their needs. Without a written language, this is how the Huichols pass on their stories of creation, floods, and the birth of their gods.
Traditional Huichol artists apply multicolored yarns to a thin layer of beeswax, to adhere the yarn to a piece of wood. The beeswax is laid in the sun to warm up before the yarn is applied. Artists use a thin stick to 'sketch' out their design.
These intricate designs are no longer considered folk art. Instead, many major museums have now recognized these highly detailed designs as fine art, displaying them in exhibitions and selling them in galleries around the world.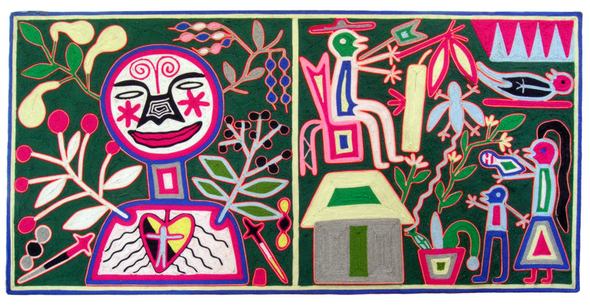 Photo by Flickr user patti haskins
Make Your Own Huichol Yarn Painting
You can make this yarn painting in: 1 hour
What you will need:



Cardboard (roughly 8x8 inches)


White glue


Colored yarn, of various colors, cut into short lengths (1 to 8 inches)


Pencil


Step 1: Draw out your design using pencil on the cardboard surface. You can also create your design free hand, without a pre-drawn design. You may use a template for inspiration, or to trace. Be creative! Tell a story that is important to you.
Photo by Ann Arbor Art Center
Step 2: Apply glue to the section you want to work on first, and apply the yarn working with small areas at a time. Trim excess yarn as needed.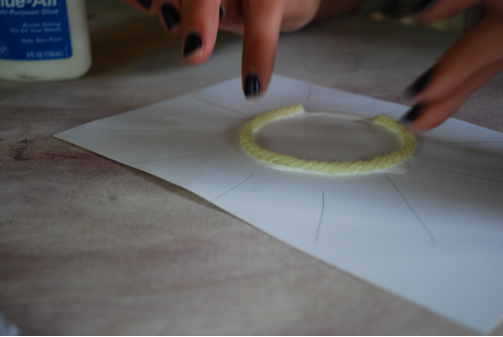 Photo by Ann Arbor Art Center
Step 3: Push the yarn closely together, so there isn't any white space, you can use a bent paperclip for this instead of your fingers. Keep adding yarn until your paper is completely covered.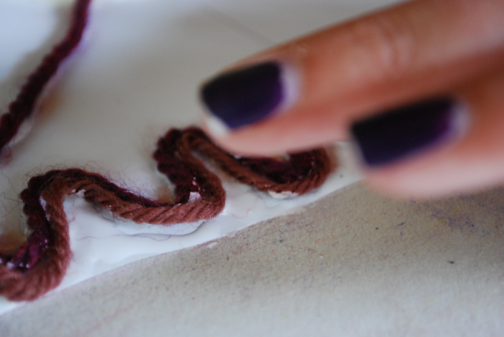 Photo by Ann Arbor Art Center
Step 4: After you're finished, display your Huichol Yarn Painting!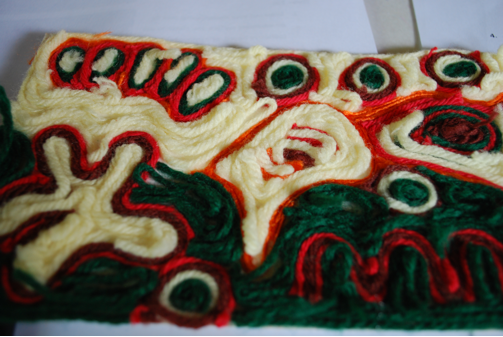 Photo by Ann Arbor Art Center
Think about this:
What story did you illustrate in your yarn painting?
Why is this story important to you?
What about the Huichol traditional of yarn painting makes it interesting?
Can you think of other cultures that tell their stories through pictures?
How do you like to tell your own story? Through music, art, or writing?
Print and share this activity!
To print this activity, please download and save the following PDF to your desktop: Huichol Yarn Painting How-To.pdf




See more Creativity Corner articles here.
This Creativity Corner activity has been brought to you by

The Ann Arbor Art Center is a non-profit organization dedicated to engaging the community in the education, exhibition and exploration of the visual arts. Offering studio art classes, workshops, exhibitions, summer camps and more, the Art Center is celebrating over 100 years of being the place where creativity and community meet. For more information please visit www.annarborartcenter.org or stop by the Art Center located at 117 W. Liberty in downtown Ann Arbor.