Posted on
Wed, Mar 14, 2012 : 6 a.m.
March is National Nutrition Month - Help your child prepare healthy snacks
By Angela Verges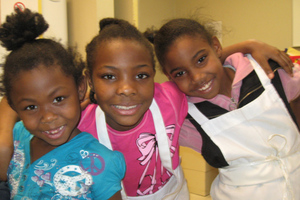 Photo courtesy of Corinne Vivian
National Nutrition Month is sponsored by the Academy of Nutrition and Dietetics (formerly the American Dietetic Association). Its goal is to promote nutrition awareness and education. The Academy of Nutrition and Dietetics has issued a challenge for people to make healthy food choices this month.
The theme for Nutrition Month is "Eat right with color." Splash some color on your plate with a variety of fruits, vegetables, whole grains, lean proteins and dairy. How can you get the kids to try healthy foods? Try some of the tips provided by the Academy.
Kids can refuel with the following nutrition packed snacks (this is a partial list from the Academy of Nutrition and Dietetics):
1. Peel a banana and dip it in yogurt. Roll in crushed cereal and freeze.
2. Stuff a whole grain pita pocket with ricotta cheese and Granny Smith apple slices. Add a dash of cinnamon.
3. Smear a scoop of frozen yogurt on two graham crackers and add sliced banana to make a yummy sandwich.
4. Microwave a baked potato. Top with reduced-fat cheddar cheese and salsa.
5. Make snack kabobs. Put cubes of low-fat cheese and grapes on pretzel sticks.
6. Toast a whole grain waffle and top with low-fat yogurt and sliced peaches.
7. Toss dried cranberries and chopped walnuts in instant oatmeal.
8. Fill a waffle cone with cut-up fruit and top with low-fat vanilla yogurt.
9. Spread mustard on a flour tortilla. Top with a slice of turkey of ham, low-fat cheese and lettuce. Then roll it up.
10. Rocky Road: Break a graham cracker into bite-size pieces. Add to low-fat chocolate pudding along with a few miniature marshmallows.
For the complete list of healthy snacks visit www.eatright.org/NNM/content.aspv?id=5342.
At the Parkridge Community Center in Ypsilanti, kids learn to prepare snacks at a weekly cooking class called Kids Culinary. As they measure, pour and stir, the kids have fun learning nutritious tidbits. For information on classes such as this, for kids or adults, contact your local recreation department.
What things will you do to promote National Nutrition Month?
Angela Verges is a writer and mother of two. She can be reached at awritersdream41@yahoo.com.