Posted on
Fri, Feb 4, 2011 : 5:59 a.m.
Trapped in an ongoing game of cat and mouse
By Heather Heath Chapman
I grew up in a wooden farmhouse that was crawling with mice. Some years were mousier than others, depending on the cat. During the worst winter I can remember, Clarence — a fat, old tabby — sat sullenly by while the mice claimed our kitchen as their kitchen and my room as their personal disco. The squeaky, scratchy partying went on all night, every night.
One morning, I woke to the tickle of a soft, gray lump playing near my toes. After I grabbed it and threw it as far as I could, I swore that someday I'd live in a mouse-free house.
I made the pledge again a decade later, in the first home — hovel, really — that I shared with my husband. One night I opened the silverware drawer and found chunks of dog food nestled among the forks. That was weird. And gross. But I didn't give it too much thought.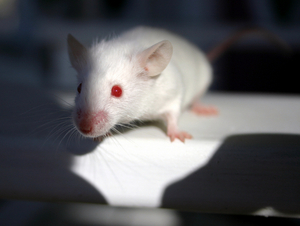 The next day, I stepped out of the bath, pulled a towel from the cabinet, and sent a shower of dog food skittering across the floor. One quick look, and I discovered that our linens were covered with kibble and mouse poop. Two questions surfaced. First, how was I going to deal with what was clearly a profound infestation? And second, what were my immediate options for getting dry?
Our black Labrador snuffled around helpfully, cleaning up the mess.
That was the autumn when my husband and I learned that dog food should be stored in a plastic fortress. But, too late. The mice had already tucked away enough rations to feed their grandchildren's grandchildren. All winter long, we found dog food in disconcerting places: underwear drawers, cream pitchers, the washing machine and--like a little peace offering--on my pillow. We moved out as soon as our lease was up.
These days, our family lives in a cozy brick house. It was rodent free when we moved in, and it stayed that way until December two years ago, when I found droppings in the drawer beneath the oven.
"No way," I said, feeling affronted. This was exactly what I had pledged to avoid.
I baited the most enticing mousetrap ever — cheese, peanut butter and a Dora the Explorer fruit snack. On Christmas Eve, we heard a loud snap.
"There," I said. "Not a creature is stirring."
My friends told me that there was no way we'd had just one mouse — that I hadn't simply caught the one and only culprit — but I told them to talk to the hand. Months went by without any trouble. I forgot about the Christmas Eve mouse.
A few weeks ago, I decided to clean out some drawers. My son's desk was the first target, because I had no idea what was in there. (Old matchbox cars? Maybe diapers, from when we'd used the desk as a changing table?) I opened the first drawer with a flourish and was surprised to find a pile of shredded newspaper.
And, hey. There was the slipper I'd lost. And a mitten. And a Twizzler. And, peering out at me from a nesty place in the paper, two bright little eyes.
I have a lot of experience with mice, and I've never thought of myself as a squeamish person. So, in that moment, I did the coolest thing I could think of. I slammed the drawer shut and yelled, "Run!"
Then I danced a crazy tiptoe-running dance right out of the room, shunting my son to the side when he got in my way.
The hunt that followed was epic. It involved every conceivable type of rodent trap and culminated in a showdown: The mouse, trapped in a corner and clutching a fun-sized Mr. Goodbar; my husband, crouched in a ninja stance and wielding a set of barbecue tongs.
It turned out that my son had hidden some Halloween candy in his desk, and the mouse had been enjoying a resort-style life deep in the drawers. When we evicted him, we found a tiny toy bunny stashed among the sweets and shreds — a mouse's little friend, perhaps.
"Awww," my family said in unison, but I held up a hand for them to talk to. I didn't have the time or patience for sentiment.
I'd made a pledge long ago, and I planned to uphold it, one mouse at a time.
Heather Heath Chapman lives in Ann Arbor with her husband and two children. You may reach her at heatherchapman1@me.com.