Posted on
Sun, Mar 21, 2010 : 6:05 a.m.
Nancy Drew leaves us hanging every bedtime
By Scott Beal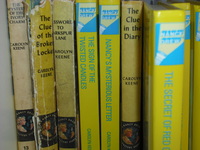 Nancy Drew has narrowly escaped the mysterious cult compound of the Lavender Sisters. She flees through the woods with a snarling mastiff at her tail. Suddenly she is blinded by the headlights of an approaching car! Is she about to be captured or rescued?
"What?" my daughters groan. "That can't be the end of the chapter!" But they know better. Nancy Drew has comprised our bedtime reading regimen for much of the past year. So by now they know that 19 out of every 20 chapters end in cliffhangers. (The 20th ends with the crooks in custody, the stolen goods recovered and Nancy pining for her next mystery.)
I love Nancy Drew. My earliest memory of a library is gazing in awe at that row of trademark golden spines promising an endless array of spooky thrills. "The Hidden Staircase." "The Invisible Intruder." "The Clue of the Velvet Mask." I still remember the delicious suspense each time I would crack a new volume. I don't know if I came to love Nancy because she was a girl, or in spite of her being a girl. I never had the slightest interest in the Hardy Boys.
When Zoe received a set of Nancy Drew books as a birthday gift, she tore through one per day, then hit the library for more. I was delighted. I began rereading them myself, and kept pace for a week before Zoe left me in the dust. I would tell people I was doing it for the shared experience with my daughter, but really I just wanted the childish pleasure of falling into them again. And did I ever. I found someone's amazon.com review identifying the best titles and read every one. I bought and read "Girl Sleuth," Melanie Rehak's biography of the women behind the pen name Carolyn Keene.
Eventually Zoe's obsession with Nancy Drew burned out, and she moved on to other bookish obsessions. Her younger sister Jocelyn has moved through her own series of obsessions. For better or worse, Scooby-Doo has been a constant presence in our lives for the past three years. Recently we've worked through Cam Jansen and the A to Z Mysteries; Jocelyn has been consistent in enjoying a good mystery. So, for the entire family, Nancy Drew represents a common ground we can all enjoy at bedtime — at least until the chapter ends in another groan-inducing cliffhanger.
Returning to Nancy Drew as an adult, of course, one finds that the stories are formulaic and dated. Without fail, Nancy's first impression of a character's honesty or dishonesty is always confirmed. When a female character is introduced, the narration makes a point to note her attractiveness, and attractiveness goes hand-in-hand with virtue. Nonwhite characters are often referred to more by ethnicity than by name: "Nancy took the elderly Chinese home in her car." And then there is Nancy's limitless privilege: her famous lawyer father; her blue roadster convertible; her apparently limitless budget for travel. I try to downplay these features while reading aloud, revising lines on the fly. But a lot of it is unavoidably ingrained.
Still, I can't get over my love for the sleuth herself. She's brilliant and resourceful and doesn't shy from danger. The bad guys' threats always fail to daunt her. She succeeds where male authorities fall short, and in turn they grant her their respect. She has a nominal boyfriend but not a trace of interest in romance or coquettishness. Not only does she know how to handle that blue roadster on any terrain, she knows how to fix it when it breaks down. Nancy Drew may be the first true female action hero in American letters. I'm happy to have the nightly chance to share her with my daughters.

Scott Beal is a stay-at-home dad, poet, and creative writing instructor. You can contact him at swbeal@gmail.com.