Posted on
Fri, Sep 9, 2011 : 6 a.m.
Parents: Shake up your back to school routine with these tips
By Angela Verges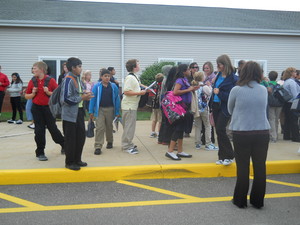 Angela Verges | Contributor
The signs that school is back in session are all around us — kids waiting at the bus stop, requests to volunteer at school and forms to complete. My kids seemed to ease into their first few days pretty easily. Now it's my turn.
The carpool schedule is set, I attended open house, now it's time for the daily routine. Are you dreading the back to school routine? A recent article I read gave tips on ways to change your daily routine.
Do you ever feel like your routine is reflective of the movie Groundhog Day, where the same thing happens the same way every day? You wake the kids, get them dressed, make sure they brush their teeth, go to work, cook dinner, blah, blah, blah.
The article 5 ways to change your daily routine, gives suggestions on how to break the monotony and throw some excitement into your routine:
1. Execute your routine in reverse order - To shake things up a bit, give the kids baths before dinner instead of after. This will help to get the kids to bed on time and even provide you with a little extra "me" time.
2. Add an element of surprise to your routine - Have family night in the middle of the school week or serve the kids favorite breakfast food for dinner.
3. Get messy - Do something messy such as breaking out the finger paints or let the kids help bake something. Anytime the kids prepare something in the kitchen at our house, it seems to be a messy adventure. Another messy adventure at our house is sock fights. The kids roll their socks together and throw them as though they are in comeback. There is a lot of dodging, ducking, rolling and laughter.
4. Take a night off - Although you may be just beginning your routine, plan a day off when you need it. Put every chore on hold for the night except the things you must do like feeding yourself and the family. Taking a needed break is a great way to replenish your energy so you can accomplish tasks the next night.
5. Do something for yourself - When was the last time you did something just for you? "Begin taking care of yourself with baby steps such as taking a bath or read a book just for pleasure. These bite-sized escapes can help you refuel and come back to your same routine with new energy and stamina."
Do you have tips to share for shaking up your daily routine?
Angela Verges is a writer and mother of two who refuses to be stuck in a boring routine. She can be reached at awritersdream41@yahoo.com.