Posted on
Sun, Oct 10, 2010 : 9 a.m.
Instilling virtue in our children
By Heidi Hess Saxton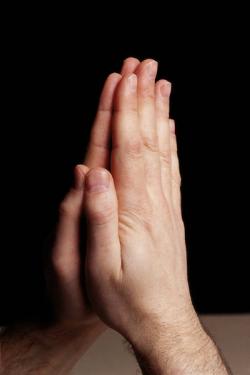 Sunday night out with girlfriends was a real treat. We chatted over couscous with fruit salad and éclairs, washed it down with hard lemonade and sang along to the music. It doesn't happen often, but when we do it, we do it in style!
Late that night, I bent down to kiss my sleeping daughter and I noticed that her fingernails were blood-red. She had swiped a bottle of nail polish from my "what was I thinking?" cosmetics drawer, then added a top coat of permanent marker. She looked so angelic, deep in dreamland—except for the nails.

In the morning, there would be h-e-double toothpicks to pay. Sarah's school has a very strict dress code, and it would take a month's worth of lunchroom duty to fix it if her nails weren't buffed clean the next morning. (Yes, I'm kidding. Sort of.)
Honestly, I tried. For a full 30 minutes after breakfast I swiped polish remover over her fingers, scolding her for her unauthorized "makeover." Sarah looked suitably penitent - until we realized that the polish wasn't coming off. "Goody! Now I can wear nail polish to school!" she crowed.
Yeah. Goody. An hour later, I did the "walk of shame" to Sarah's classroom. Yes, I told her teacher, I know cosmetics are not allowed. Yes, I had tried to get her nails clean, and would take a sand blaster to her fingers after school if they could just overlook the infraction for the day.
Sarah's teacher was gracious, as always. Sarah looked positively jubilant. Her classmates appeared to be taking notes. "Permanent marker over the nail polish, you say? Hmmm ..."
That afternoon, I sleuthed out the antidote to our predicament online: Dawn dish detergent, nail polish remover with acetone and almond tree oil for the cuticles. Plus a set of earplugs for me to drown out the howls. Fortunately, the plugs turned out to be unnecessary. Ninety minutes later, Sarah was soaking her sore cuticles in the bathtub.
Then I noticed it: Her toenails were painted, too.
Suddenly it hit me: From the first day of school I had allowed Sarah to paint her toes as a concession to her personal sense of style. It wouldn't show under her socks and sneakers, right? Now I realized that this had taught her another lesson: Breaking the rules is OK, so long as no one notices.
Over wails and protests, I broke out the remover, and bent to work on her toes. I then informed my 8-year-old that there would be no more nail polish. At all. Anywhere on her body. Until her next birthday. And that I would keep adding birthdays each time she sneaked it.
I figure there's a good chance my bottle of acetone may last until she's 30.
The nail polish incident got me thinking about the guileless virtue of integrity. Integrity, it is said, is what you do when no one else is looking. Instilling integrity in our kids involves living out the values we profess consistently in public as well as in private. Avoiding the little "short cuts" that can encroach on everyday life.
This one is especially hard for parents of young children. They notice each time the speedometer creeps up over the limit, how Mom responds when a bit of contraband materializes after a shopping trip, and whether we make polite excuses to get out of something we'd really rather not do.
Integrity, then, involves the fruitful marriage of words and actions. In the 12th century, St. Benedict's rule for the spiritually integrated life could be distilled into three simple words: Ora et labora. Prayer and work. By elevating their minds to God, then working with simplicity and integrity, the Benedictines initiated true spiritual renewal to the medieval Church.
So it is with us, as parents. As we strive to align our own words and actions so they conform to the values we profess to be most important to us, seeds of integrity sprout in the minds of our children. So, picking up the discarded trash during playground duty becomes a powerful lesson in protecting the environment and supporting education. Helping a struggling single parent get back on her feet does more than preaching the evils of welfare. Supporting our schools and teachers, in little things like nail polish and bigger things like fundraising, teaches kids respect for the educational process.
And when mistakes happen, as they do, integrity means owning it and fixing it. "I'm sorry, Sarah. I should not have let you polish your toes—cute as they may be. It was breaking the rules, and we need to obey the rules of your school out of respect for your teachers, your classmates, and yourself."
Lord, keep me honest. I want to be a person of integrity!
When have you found it particularly hard to model integrity in your own family? Stay tuned in the weeks ahead, as we examine six other "global virtues" that can positively transform the life of a child.
Heidi Saxton is a contributing writer on the AnnArbor.com parenting channel and the founder of the "Extraordinary Moms Network." You can reach her at heidi.hess.saxton@gmail.com.