Posted on
Sat, Oct 31, 2009 : 10:35 a.m.
Stained Glass Window Craft
By Niki Hogan-Lefler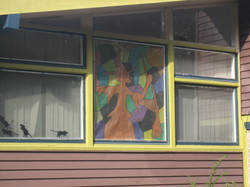 My memories as a child, when not about building forts in the woods behind our home, is doing crafts with my mum. During the December holiday we would pull out the large roll of meat paper from my parents grocery store and turn into coloring fools. Our home had five, six foot, narrow windows spanning the front that were turned into "stained glass". It was such a bright moment, after finishing the project, to run outside, down our driveway and look at the brightly lit and colorful windows! Our family has been making a stained glass window for the children's bedrooms every year. This year we were adventurous and opted to make a large window for my favorite celebration ~ Halloween! To start this craft you need to figure out the size of the window you are planning on making a stained glass window for and get paper that is large enough to cover it. To get large, inexpensive rolls of paper try local newspapers (if you are in a small town sometimes they will sell them to you), meat paper, or even the
ScrapBox.
Next, choose your design and draw it out with a black sharpie. Once the design is drawn you can section it off into "stained glass" portions, basically, drawing little squares or triangles inside of your design. The next step may take a couple of sessions depending on your child. Get out the crayons and go to work. Color in the sections with which ever color combination you choose and make sure they are fully colored in.
When you have your white window panel covered with crayon colors turn it over. Now you learn the real secret of paper stained glass windows ~ OIL! Raid your cabinets and find the most inexpensive oil you have. Pour the oil on the back of the paper and rub in with paper towel. You can see the paper becoming transparent! Once hung on the window this is what allows the light to glow through and light up your windows.
This project can be done anytime! Holidays are a great time, but think of your child with a fairy or fireman window at home that THEY helped with. Have fun!
Niki Hogan-Lefler is a mural artist who loves working with children and teaching art.