Posted on
Fri, Oct 21, 2011 : 11 a.m.
Stop the morning madness - 3 tips for getting your kids ready for school on time
By Angela Verges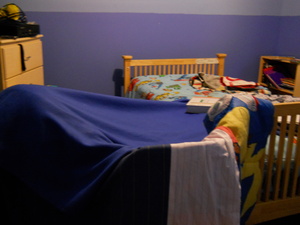 Angela Verges | Contributor
In the quiet of the morning, the alarm goes off and so begins the battle of waking the kids. You go to your child's bedroom and softly call his name, but you have to go back again and again to make sure he's actually up. As the minutes tick away and he's still not out of bed, you finally snatch the blankets off the bed in desperation.
Do you find yourself bending over backwards to get your child going in the morning? You are not alone. An article at empoweringparents.com says, "Parents should stop taking responsibility for getting their kids out of bed on time." The article says that when a parent repeatedly attempts to wake her child, "You are working harder to wake up your child than they are."
How do you end the morning power struggle? According to the article, the first step is to start by setting new ground rules. You have to give your child the responsibility for getting up. Sit down with your child during a calm time and discuss the morning routine.
Let him know that you will only give one wake up call. If his behavior doesn't change, he will have to face the consequences. One consequence for oversleeping and being late for school may be having to make up any missed schoolwork.
Making sleep a priority is another tip identified to help ease the morning power struggle. It may be necessary to set an earlier bedtime for your child. You could tell your child, "You seem to be having a hard time getting up in the morning, which tells me you're not getting enough sleep." The article says to try the earlier bedtime for five consecutive days. If your child is successful, then the bedtime can be extended a little.
The final tip in the fight against the morning power struggle is to help your child problem solve his way to a better morning routine. Have your children come up with a list of things they can do to help themselves get out of bed on time.
If he wakes up with an alarm clock, move the clock across the room so he has to get out of bed to turn it off. Have your child pick out his clothes, and pack his backpack at night to avoid a morning rush.
Getting the kids ready for school in the morning doesn't have to result in a daily power struggle. As parents, we have to develop a plan of action to help our children take responsibility for their morning routine. It can be a challenging task, but we have to have tenacity and know that calmer mornings are within reach.
What are your tips for avoiding a morning power struggle with the kids? Share them in the comments below.
Angela Verges is a writer and mother of two. She can be reached at awritersdream41@yahoo.com.