Posted on
Thu, Feb 4, 2010 : 7:45 a.m.
Super Bowl ads feature sex, violence — and now abortion. Will you let your kids watch?
By Jen Eyer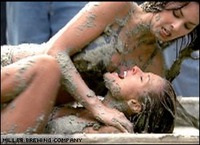 I'll admit it: I couldn't care less who wins this Sunday's Super Bowl game (who's playing, anyway?). The NFL is not my thing.
Historically, the only thing that keeps me in the room is the ads. But now that we have children, we have to be on high alert during the commercial breaks, ready to change the channel if the content is inappropriate.
Wait. Let me rephrase that, because the content is almost always inappropriate. It's usually just a matter of whether the kids happen to be watching.
After all, do I really want my 6-year-old daughter to see women exposing their breasts in Congressional hearings? Do I want my 3-year-old son to watch a man punching a koala bear?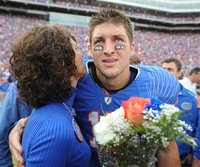 AP file photo
This year, though, some parents are really upset about the Tim Tebow anti-abortion ad. In case you haven't heard, University of Florida football player Tim Tebow and his mother, Pam, will appear in an ad in which they claim that when Pam was pregnant with Tim, she suffered serious pregnancy complications but rejected her doctor's advice to have an abortion.
Michelle Cottle of the New Republic writes:
Grading on a curve, a split-second peek at [Janet Jackson's] boob, while utterly tasteless, isn't that hard to wave off with kids in the room; an ad that specifically aims to provoke discussion by focusing, no matter how cheerily, on a woman's high-stakes decision about whether or not to terminate her pregnancy opens up a darker, more complicated can of worms.
It may be true that the anti-abortion ad will provoke discussion, but grading on my own parenting curve, I'd rather have a difficult discussion than no discussion at all. I would imagine my daughter turning to me, after viewing the Tebow ad, and asking, "Mom, what's an abortion?" And I would tell her, in age-appropriate terms. I would also add my own personal views on the subject. As for my son, it would just be over his head and he would tune out.
In contrast, if she sees a commercial showing nearly-naked women wrestling in wet cement while men cheer them on, I doubt she would ask me about it. But she'd be introduced to the idea that men must find it exciting when women strip down and crawl all over each other. As for Wes, it wouldn't be over his head, either. Initiating a discussion with them on what's wrong with this ad would be difficult. What would I say? "Um, so kids, about those naked women..."
So contrary to what the NFL and CBS would have us believe, I don't consider the Super Bowl a "family event." I think it should just be understood that Super Bowl commercials aren't for children, period. Maybe this year we'll have the kids watch a movie in another room while the grownups take in the game.
Jen Eyer is on the Community Team at AnnArbor.com. She oversees the Parenting and Home & Garden sections, and writes feature stories, blog posts and opinion pieces. She can be reached at 734-623-2577 or jeneyer@annarbor.com.