Posted on
Sat, Dec 12, 2009 : 11:20 p.m.
Survive the drive along I-75 with your children and worthwhile stops
By Stefan Szumko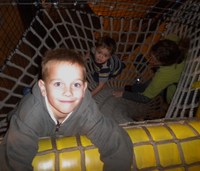 Stefan Szumko | Contributor
Every few months, we load up the car and head south on I-75 to Grandma and Grandpa's who live just north of Cincinnati. The 4-hour trip seems to take 4 days when accompanied by two active boys, Jameson, age 3 and Alex, age 8. If we are in a hurry, we only stop for cheap gas and restrooms at exit 135, Delphos/Beaverdam, at the halfway point.
Yet when we have time to spare before the in-laws get home from work to meet us, we'll make an additional stop in Dayton to spend an hour or so at the Boonshoft Museum of Discovery. The museum is only a few minutes from the freeway and has reciprocity with membership to the Ann Arbor Hand's On Museum. Boonshoft is well worth a visit since it will delight children of all ages with it's live animals native to Ohio, a tidal pool display, space exhibits, natural and human history, physical science exploration, and an indoor climbing tower with slides.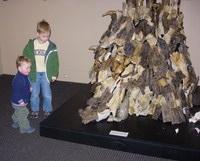 Stefan Szumko | Contributor
For those on a budget, the Dayton Art Institute has free admission, courtesy of Chase. Plus it is even closer to the freeway. A quick stroll through the galleries will agree with the attention span of youngsters and art neophytes like me. The children's Experiencenter brings art to life with hands-on activities throughout the museum. Currently, my favorite exhibit is "Shimmering Madness" by Sandy Skoglund made out of jelly beans.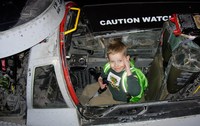 Stefan Szumko | Contributor
A bit of a detour from I-75, Dayton is rich in aviation history. Home to the Wright Brothers, who invented the airplane, take time to visit the Wright Cycle Company Complex, a National Park. Admission is free. See the tools and technology used by the brothers as they developed modern flight through interpretive displays. Also worth several visits is the National Museum of the Air Force which, too, has free admission. Three hangars are filled with hundreds of airplanes and space vehicles.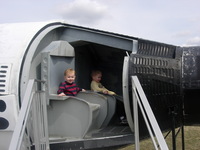 Stefan Szumko | Contributor
For those needing a break 2-hours from Ann Arbor, the Armstrong Air & Space Museum is just off the freeway in Wapakoneta, Ohio. The museum itself does charge admisssion ($8-adults, $4-kids age 6-12, free for 5 & under) and takes 30-minutes to an hour to view. But the landing module in front is a great place to picnic, located next door to a burger doodle.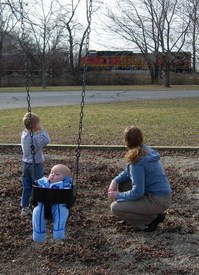 Stefan Szumko | Contributor
On our return trip home, we prefer to make time and limit our stops. But if the weather is nice, we'll stop for a quick trip to a playground at either the Van Buren State Park north of Findlay (1.5 hours from Ann Arbor) or the Side Cut Metropark in Maumee (1 hour from Ann Arbor). There's nothing like a breath of fresh air, throwing rocks in the water, and getting a quick bit of physical activity before completing our journey.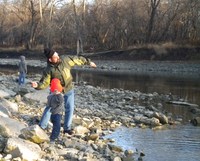 Stefan Szumko | Contributor
For those who are travelling I-75 further south of Ohio, perhaps all the way to Florida, a great resource is the book by Dave Hunter, Along Interstate-75: Local Knowledge, Entertainment And Insider Tips, for Your Drive Between Detroit And the Florida Border. This guide is updated annually and lists all the gas stations, shopping opportunities, and sights worth seeing along the entire route from Detroit to the northern border of Florida.