Posted on
Thu, Dec 29, 2011 : 6 a.m.
Tips for creating successful New Year's resolutions
By Angela Verges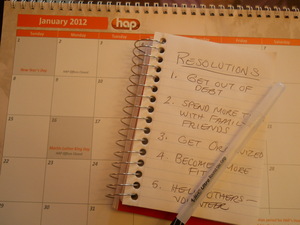 Angela Verges | Contributor
It's that time of year where many of us make promises of changes we want to make for the New Year. These resolutions can be easily made, but difficult to make them stick. Statistics show that the success rate for keeping resolutions is between 5 and 20 percent depending on the resolution (ourcoloradonews.com).
How can you create resolutions and stick to them? Newspaper columnist and personal fitness trainer Cord Prettyman uses the mnemonic SMARTER, to help clients stick to resolutions.
Check out these quick tips:
S - Specific - Goals should be specific — just saying I want to get in shape is too vague. A more specific goal would be: "I will work out three times each week."
M - Measurable - "You can't tell if you're making progress if there's nothing to measure," Prettyman says.
A - Achievable - You must have the ability to reach your goals.
R - Realistic - "People who have never run a step in their lives who say, 'I want to run a marathon' are being unrealistic," Prettyman says. Participating in a 5-kilometer walk is a better starting point.
T - Time limits - It doesn't work to just say, "I am going to lose weight." Instead say, "I will lose 10 pounds by this date."
E - Evaluate - Prettyman says we must take the time to evaluate our progress.
R - Reevaluate - The idea here is to reevaluate, set another goal. Goals don't have to only be set at New Year's; they should be set all the time.
The above tips can be put to use with the following examples of popular resolutions.
• Get out of debt - One way to work toward this goal would be to consult a financial planner.
• Spend more time with family and friends - Set a goal for how often you can get together; schedule a game night with siblings, schedule a night out with the girls/fellas one time a month.
• Help others - You can accomplish this by designating an organization you want to help and determine how often you are available to volunteer.
• Get organized - There are personal organizers available to help in this area.
• Become more fit - You could work out with a friend to keep each other motivated or join a gym together.
We have to keep in mind that the ultimate purpose for setting New Year's resolutions is to better ourselves. This is a good time to recite the saying "if at first you don't succeed, try, try again." If you are struggling with a goal you set, reevaluate, or set new goals, but don't give up.
What are your tips for creating successful New Year's resolutions?
Angela Verges is a writer and mother of two. She can be reached at awritersdream41@yahoo.com.