Posted on
Thu, Apr 12, 2012 : 2:23 p.m.
Ozone House's WorkZone program addresses high rate of youth unemployment
By Katie Doyle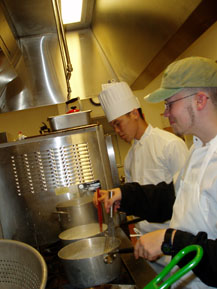 Photo Courtesy Ozone House
One of the greatest challenges facing Michigan today is the high rate of youth unemployment. While the unemployment rate for adults in Michigan and across the U.S. remains sluggish, for youth it is even more dismal.
According to the Annie E. Casey Foundation, a mere 27 percent of Michigan youth ages 16-19 were employed in 2010. The youth employment statistics across the U.S. aren't much better: the Bureau of Labor Statistics reports that only 54.3 percentof young people 18-24 are employed, the lowest rate since government began tracking data in 1948. This means that young adults are falling into poverty at higher rates than older adults.
Persistent youth unemployment leaves a 'wage scar' that can continue into middle age: the longer the period of unemployment, the bigger the effect, according to Paul Gregg, a Bristol University (Canada) economist who has studied this issue.
Gregg reports that "every year spent unemployed as a youth leads to a 10 percent drop in wages by the time young people reach their 30s." This wage scar will affect the number of young people who are able to move into the middle class in the future.
Creating pathways to employment for young people is imperative to a healthy economic future. In Michigan, employing youth is a priority. In fact, the Michigan Economic Development Corp. Blog states, "The brand new focus that has been included in economic development is the expansion of youth jobs."
For our community's homeless youth, the challenges associated with obtaining employment are especially difficult. For this population, barriers to employment include lack of proper identification, homelessness issues, and mental or physical health needs.
Ozone House, a community-based nonprofit agency that helps young people lead safe, healthy, productive lives, hopes to ameliorate these job barriers for homeless youth with an innovative program called WorkZone. The goals of the WorkZone program are to increase income and job retention leading to greater self-sufficiency among homeless youth.
"Employment income is key to establishing a young person's independence and stability. WorkZone offers youth the opportunity to build their skills and gain experience to both obtain and maintain employment," said Pam Cornell-Allen, associate director of Ozone House.
WorkZone consists of two phases: Phase one focuses on employment training, including resume writing, interviewing, presentation and professional workplace behavior.
In the second phase, youth explore a career interest through an internship and develop skills in a work setting. Ozone House ensures that youth are compensated for their time at the internship site. Young people work with an Ozone House case manager during the program to help them overcome barriers to employment.
Regardless of one's age or status, employment is financially rewarding, increases skills, and boosts self-esteem. Ozone House hopes that taking pro-active steps today to alleviate youth unemployment will help to ensure a positive outlook for our community.
Katie Doyle is the executive director of Ozone House Youth & Family Services based in Ann Arbor, Michigan. For more information about Ozone House and its programs and services for youth, visit www.ozonehouse.org or call 734-662-2265.