Posted on
Fri, Jan 15, 2010 : 8 a.m.
Take a hike through the winter woods with Washtenaw County Parks and Rec
By Tammy Mayrend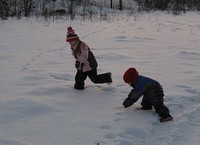 Children enjoy finding animals tracks in the snow. Photo courtesy of Flickr user hege2.
Winter nature walks can be a wonderful experience for families to share together. Last year while on one such outing, my daughter, who was snuggled into her sled in a cosy, nestlike shell, even enjoyed a brief winter nap while I enjoyed the serene wintery scene unfurling around me. Ann Arbor and communities around the area offer many beutiful parks to walk through, however if you prefer a walk led by a naturalist, the Washtenaw County Parks and Recreation offers several upcoming free programs for your family to enjoy.
The Animals in Winter - Nature Stories and Hike Saturday January 16, 1:00 -2:30 p.m. Appropriate for children 4 to 7 Free - Call 734-971-6337 ext 334 to register
Children and adults alike will share stories inside, then head out to look for signs of animals frolicking throughout Ann Arbor's County Farm Park. Hot drinks provided at the conclusion of the program. Meet at the County Farm Park's Platt Road Entrance.
Winter Woods Walk Saturday January 30, 2:00 -4:00 p.m.
Enjoy the seasonal hike with the Washtenaw County's Nature Programs with Park Naturalist Faye Stoner. Come experience a winter afternoon in the outdoors, traipsing on and off trail to learn about plants and animals that live in Ann Arbor's Couty Farm Park. Meet at the County Farm Park in the Medford Lot Entrance.
Tracks, Scat and More! Sunday Feburary 7, 2:00 - 4:00 p.m.
During this winter hike, participants will learn how to identify many of the clues that animals leave "behind"! Participants should meet at the Kosch Headwaters Preserve.
For more information of these free programs offered through the Washtenaw Couty Parks and Recreation preogram, please call 734-971-6337 or visit the WCPR website.
Tammy Mayrend is a Search Marketing professional who blogs on local activities for families at annarbormom.com.