Urgent: don't forget to make time for summertime fun!
Posted on Fri, Jul 23, 2010 : 6 a.m.
"Does anyone else think the phrase 'lazy days of summer" is an oxymoron???"
That's how the Facebook exchange began, started by my friend Melanie. Here's the ensuing conversation (the other names have changed to protect the innocent):
Susan: that phrase was obviously coined by a man who did not have to haul kids to every practice/friend/whatever possible - and usually in opposite directions at the same time :)
Bill: I am certain the phrase was coined by some turn of the 20th century man of leisure. You know, the kind who worked old-fashioned banker's hours and maybe even hired domestic help.
Karen: It ranks right up there with "stay at home" mom. I never seem to actually be at home.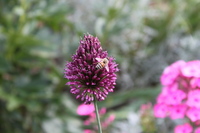 Sarah Nicoli | Contributor
Nancy: agreed!
Kathy: couldn't be truer at our house!
Me: Can I borrow this as inspiration for an annarbor.com entry? (I'm totally serious.)
Melanie: Sure! You could interview me if I only had time :) jk
Summertime really should be time for relaxing (or chillaxing, as my kids say). Time for catching up on all the fun things we can't do during the school year. Time to do all the cool things going on around town. Time for connecting with friends and family that we don't get to see enough when we're hibernating from the cold and snowy Ann Arbor winter.
Time for … time.
We all know the obvious: what we need is not more time, we just need to use our time better so that it doesn't use us. We need to make "time" a priority. The more we take control to manage the ebb and flow of our time, the more choices we will have about how to spend it. And, chances are, we would spend that time a bit differently than how we're doing it now.
Obviously, we need some intervention here. Julie Cubino, a certified professional organizer, couldn't agree more. She thinks we all need a fun day every single week, and she has some ideas about how to get there.
I am trying to do it, I really am. For example, instead of sitting in my office right now, I'm on the chaise lounge on my patio with my laptop. That's more fun, isn't it? But, somehow I don't think that's what Cubino means.
OK, how about if I just try her first step, building in fun a few hours at a time? Here goes — here's my plan for the next few days:
No office today. Go to Art Fair mid-morning. Stay until a kid needs me to pick them up. Check e-mail before I leave and after I get home. (Not bad, eh?)
Tomorrow go to spinning class in the morning. But, does that really count as fun? Well, maybe I'll just take my time at the farmers market—in all its summer glory, it truly is one of my favorite places to be. (How am I doing?)
On Sunday, have pancakes with fresh blueberries and Benton's bacon from Zingerman's (that I'll pick up after my trip to the market). Chillax at home with my husband and kids all day — maybe go for a bike ride, play badminton, work in the garden. Go to an outdoor party with friends at 5 p.m. Watch the premiere of "Mad Men" at 10 p.m. (Wow, I seem to be getting the hang of it.)
Here are some other ideas on my list for lazy-ish summer fun:
Build a campfire in the backyard, have a wienie-roast and make s'mores.
Teach my kids how to play all those nighttime summer games I used to play.
Read a classic book and enjoy the silence of not hearing the TV.
Take my kids to the pool and actually get in the water with them.
Take myself to the $1 Tuesday matinee at Quality 16.
Importantly, I am writing these in my day planner (one of my favorite things to do!). Cubino even suggests putting a star next to these special times so that they take on a status of urgency and importance, which means you're more likely to make them happen.
We still have six entire weeks left of summer vacation. This should be plenty of time to learn  how to be lazier and how to make and take more time for fun. Just in time to go back to school!