Kids crafts:

What are you thankful for? Legos? Uh-oh!

Posted on Wed, Nov 24, 2010 : 4 a.m.
It often is hard for children to understand what Thanksgiving is really all about. We watch the Charlie Brown Thanksgiving special and learn about the history of Thanksgiving at school. However that still doesn't always really get to the heart of why we celebrate Thanksgiving. It's not just for the wonderful food — although that does add to the occasion.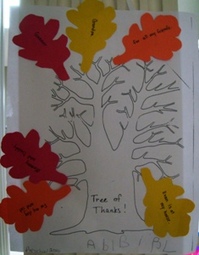 Melissa Boehling | Contributor
My daughter did a great little project at her preschool, Little Angels Child Care and Preschool, last week. It was quick and easy but was a great way to really get even the littlest ones to understand what Thanksgiving is about: They did a Tree of Thanks. Each child talked with his or her teacher about what her or she was thankful for. The teacher then wrote each item the children said on a leaf, and it was attached to an outline of a tree. If the children are old enough, then of course they could write their own thankful item on the leaf.
You could also make one large family or class tree where the kids can put leaves on the tree. If you make a family tree, then you could even read over it on Thanksgiving Day and create a new family tradition.
If you decide not to make a Tree of Thanks, just saying what you're thankful for as part of Thanksgiving dinner is a great way for kids to learn that Thanksgiving is about being thankful. And it's about being thankful for things other than Legos, as my son might say. The kids will say items like that, but as they hear others say 'I'm thankful for my family' or for being able to hear, and other similar less material items, then they will begin to see what it's really all about.
Happy Thanksgiving to all!