Posted on
Thu, May 13, 2010 : 11 a.m.
What do you do when your kids want everything?
By Angela Verges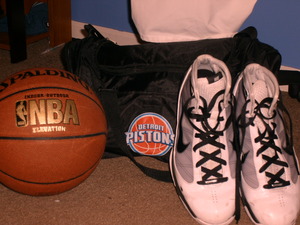 Angela Verges | Contributor
Does your child ask to buy something every time you go to the store? "Can I get new gym shoes?" "I need new shorts." "I need new under armor." I ask, "Is under armor something that Batman wears?" In fact it is not; it is a spandex type shirt or pant that athletes wear under their uniforms.
When the requests come rapid fire, I fire back with a candid response. "Due to the high volume of demands, I am unable to meet your request at this time." On many occasions I have had to let my children know that there is a difference between "wants" and "needs."
Now that they receive an allowance, they view things a little differently. My husband and I take care of the children's basic needs and they can spend their allowance on extras. However there are conditions to their allowance; half of the money must go in the bank before they start spending. If there is a high-priced item that the kids want, they must save for a few weeks to make the purchase. They don't ask for everything when they have to contribute money.
Angela Verges | Contributor
An article I recently read indicated that giving an allowance can be an excellent tool for teaching about money and how to manage it. It said that we should think about the reason for giving an allowance. In our house, the allowance is for chores completed. When tasks are not completed to our satisfaction, the allowance is docked.
It is a good idea to let children make mistakes with their money and use the mistakes as teachable moments. On a recent shopping trip my youngest son decided that he wanted to purchase a toy. He had a limited amount of money and had to decide between two items that he wanted. He selected an item with many movable parts. The next day, a piece of the toy broke. He said, "I knew I should have bought the football cards."
My children are learning that sometimes it is good to shop around and consider their options before making a purchase. That under armor (shirt) that my older son wanted … he got it. It was on sale for $11.99 AND we had a 15 percent off coupon.
What do you do when kids want everything? For us, the answer is: Make them spend their own money, within guidelines.
Angela Verges is a writer and mother of two. She can be reached at awritersdream41@yahoo.com.