Posted on
Thu, Nov 12, 2009 : 10:11 a.m.
What's Going Around: Swine flu cases leveling off
By Jen Eyer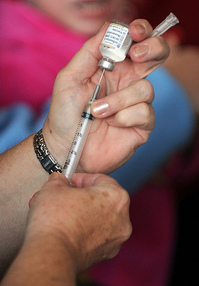 Melanie Maxwell | AnnArbor.com
Suspected cases of H1N1 influenza have leveled off over the past week, said Jan Briggson, practice manager for
Child Health Associates
in Ann Arbor.
"We still are seeing the flu, but it has definitely plateaued, and the cases are also milder," Briggson said today during our weekly phone call. "A couple of weeks ago it was more obvious, with the fever that really knocks you out."
Call volumes at CHA peaked the last week in October with about 6,400 calls. Last week they received about 5,300 calls, and this week is on target to decrease again.
CHA's average for this time of year is about 4,000 calls per week. In addition to H1N1, Briggson said they are seeing some croup, some upper respiratory infections and possibly some seasonal flu.
There is still a lot of concern about how to get the H1N1 vaccine, Briggson said.
This story has information on the next vaccine clinic, Saturday, Nov. 14 at Pioneer High School.
"What's Going Around" is a weekly series looking at what illnesses are circulating among kids in the community. Jen Eyer is on the Community Team at AnnArbor.com. She can be reached at 734-623-2577 or jeneyer@annarbor.com, or you can visit her at 301 East Liberty.