Posted on
Mon, Nov 29, 2010 : 10:40 a.m.
Where to visit with Santa for free: Photo ops, events and family fun
By Tammy Mayrend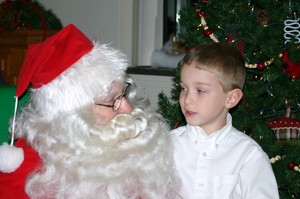 Tammy Mayrend | Contributor
Local malls always have colorful Santa displays where children can visit and have their photo taken with Santa. What about families that don't have the means to pay for Santa photos, though? Where can they go? Luckily there are several places available for kids to see Santa and have their pictures taken with him — for free! Here is a line-up of a few great locations in and around Ann Arbor where kids can see Santa.
The Dixboro General Store (5206 Plymouth Road, Ann Arbor, 48105) will have Santa available for photos on Saturdays and Sundays now through Dec. 19. From noon until 4 p.m., families can visit with and take photos with Santa for free. As a special treat, Santa will even be bringing one of his reindeer friends to visit on Dec. 12!
On Saturdays now through Dec. 18 from 11 a.m.-2 p.m. at Kerrytown (407 N. Fifth Ave., Ann Arbor), Santa can be seen and heard as he jaunts through the Farmers Market greeting shoppers and children. Photos with Santa in the Kerrytown Markets and Shops are free, with other live performances, to make the season and your day brighter!
Several of my friends really enjoy heading over to the Three Cedars Farm (7897 Six Mile Road, Northville, MI 48167) and have assured me that the holiday display is worth the short drive. The farm celebrates a Country Christmas with Santa and Mrs. Claus with picturesque grounds for photo ops and of course Christmas trees, wreaths and hot cocoa for sale. Santa is available for free photos from 4-8 p.m. Fridays, 1-7 p.m. Saturdays and 1-5 p.m. Sundays now through Dec. 19.
This Friday, Dec. 3, AnnArbor.com (The first floor space at 301 E. Liberty St., Ann Arbor) will be hosting a free story-time and Santa visit during Midnight Madness shopping. From 4-7 p.m., kids can listen to "The Polar Express" while sipping hot chocolate, and then have their pictures taken by a professional photographer. If Liberty isn't on your walking path during Midnight Madness, Santa can also be spotted during Kindlefest in Kerrytown. And if visiting Santa during Midnight Madness shopping isn't on the must-do list, you can always drop the kids' letters to Santa in Santa's Mailbox (117 E. Liberty St. in front of Organic Bliss). All letters sent to Santa between Nov. 26 and Dec. 16 will be answered directly from the North Pole!
Finally, for those of you not able to get to visit directly with Santa, your children can have the opportunity to speak with him when he appears on Community Television Network Public Access Channel 17 (on Comcast Cable) on Dec. 9. From 6-8 p.m., children can share their wishes, ask Santa questions or send good thoughts into the world when Santa appears via telecast on the Santa Satellite Network LIVE from Santa's home in the North Pole. Boys and girls are invited to call into the CTN studio hotline at 734-794-6155 to talk with Santa, Mrs. Claus and their helpful elf, Graeme.
Do you have a special place where you like to visit Santa? What are the great holiday locations for family photo ops?
Tammy Mayrend is a Ann Arbor search marketing professional and mother of two who blogs on low-cost local activities, events, and Ann Arbor area freebies for families at annarbormom.com.