Posted on
Mon, Jan 3, 2011 : noon
Are puffy winter coats for children a safety hazard in the car?
By Melissa Boehling
It makes sense once it's pointed out, but I would never have originally guessed that putting my child or infant in a heavy winter coat or suit to keep them warm could be causing a safety hazard in their car seat.
I had seen in the years since I had my son that more parents had been using the car covers for infants versus a snow suit similar to the ones used back when we were littler or the years in between.
The big puffy coats and winter suits seem to be trendy as well logical for the frigid temperatures, especially the below freezing ones we've seen lately. Those puffy coats mean more bulk, which means that the harnesses aren't being kept as tight as they need to be. The two finger test doesn't work well when you're testing it with at thick coat on a child.
This is a good article that discusses the possibly safety hazard of winter coats for babies and children: Winter Coats and Car Seat Safety: What Every Caregiver Should Know
It is directed, in the title, to caregivers but really applies to all of those who care for or have children that are in their vehicles.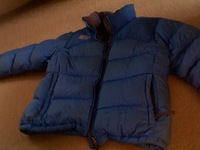 Photo by Anna Dickey
My children now wear coats that are still very warm but made of the a thinner material then the big puffy coats. Car accidents can be very serious and scary with our children in the car; that every extra step that we can take to make sure they are able to walk away okay when one may occur is something we'd all want to be aware of.
What are your thoughts? Is this a valid concern, or are parents being overly worried?
Melissa Boehling, Owner and primary care provider for Starry Night Child Care, IT Consultant, and mother of four (twin sons in heaven, a 7-year-old son and a 4-year-old daughter.)