Posted on
Thu, Jul 8, 2010 : 12:28 p.m.
Wonder Woman's new gear: Love it or hate it?
By Jen Eyer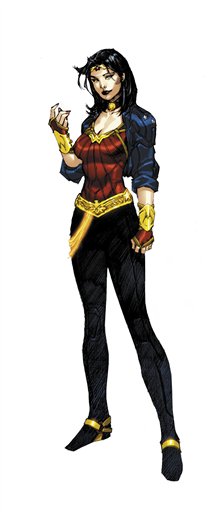 AP
Wonder Woman has a new look, and I'm loving it.
Apparently I'm in good company — Project Runway's Tim Gunn approves of it, too. From Newsarama.com:
Unveiled this past Tuesday by publisher DC Comics, Wonder Woman's new, more covered-up, outfit has received a decidedly mixed and sometimes downright hostile reaction from fans and observers.

..."Project Runway" personality Tim Gunn has made a career out of having good fashion sense, and he's squarely in the "pro" camp.

"I love Wonder Woman's new look," Gunn told Newsarama writer Alan Kistler. "This new look says, 'I'm confident, I'm powerful, I'm sexy, and don't mess with me.' Furthermore, she looks like a citizen of the real world rather than a creature from another land."
He also points out that the new, less costume-y outfit should allow her to "morph into situations in a less noticeable manner and, thereby be even more effective at combating evil doers."
Indeed. Not to mention that it will be much less chilly for our dressed-up daughters on Halloween.
Jen Eyer is on the Community Team at AnnArbor.com. She leads the Parenting and Pets sections, and writes feature stories, blog posts and opinion pieces. She can be reached at 734-623-2577 or jeneyer@annarbor.com.