Posted on
Fri, Oct 28, 2011 : 3:21 p.m.
'Passione' vividly explores music of Naples
By AnnArbor.com Freelance Journalist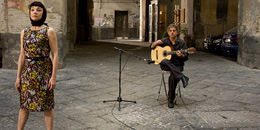 Passione
Opens Saturday at the Michigan Theater
Review by Jeff Meyers of the Metro Times
Grade: B
Though billed as a documentary,
John Turturro
's "Passione" is really a cinematic mixtape of Neapolitan music. Soulful, hypnotic, and sensuous, it parades 23 songs in flamboyant style, accenting their lusty polyrhythms and high-flying melodies with mini music videos, some that feature florid soap opera style narratives, others that capture live performances staged in public locations around Naples.
It doesn't always work (there are as many kitschy, over-dramatized moments as there are instances of unbridled musical passion) but there's little doubt that Turturro is a showman at heart. From Enrico Caruso to modern Italian hip-hop (and all points between), the actor-turned-director delivers an expressionistic and fanciful celebration of a music and a city he clearly loves.

Known for its crime, garbage, and numerous conquerors, Naples is a seething melting pot of Greek, Arabic, Spanish, French and American cultural influences. And those influences are reflected in the diverse and romantic nature of its music. Turturro takes on the role of tour guide, following each musical performance with personal observations, and making bold claims about the irony, emotion, and a sense of tragedy that permeate the art form. Unfortunately, only a couple of his digressions offer historical context for these story-telling songs that find their roots in opera but collide with American blues, Middle-Eastern rhythms, and Euro-style dance tracks. It's as if he's hoping the musical contradictions and influences will speak for themselves. And occasionally they do, as when a man sings a passionate duet with his wife, though she waits downstairs and he lies in bed with his mistress.

Linking the past to the present, Passione offers up clips of crooners Fernando de Lucia and Enrico Caruso but seems more at home when it's spotlighting the astounding multi-ethnic stylings of Tunisian-Italian singer M'Barka Ben Taleb or showcasing pop group Avion Travel's collaboration with Portuguese fado vocalist Mísia. You might not learn a whole lot about these marvelous musicians or how they inspire one another but I dare you to resist the infectious pull of the sounds and movements Turturro has assembled.