Posted on
Thu, Dec 2, 2010 : 5:41 a.m.
Passport Restaurant and Lounge offers world-class global tastes close to home
By Julie Halpert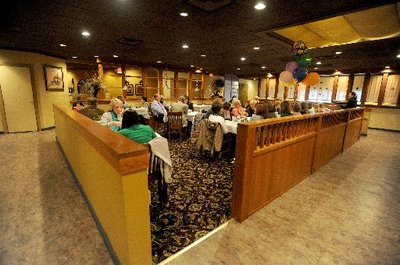 Angela J. Cesere | AnnArbor.com
There is nothing inviting about the exterior of Passport Restaurant and Lounge, with its rectangular, commercial-looking exterior, set back in an area surrounded by mostly fast food restaurants, near the Ann Arbor Airport. But what awaits you inside is different. It has a warm feel, with bamboo wood throughout, a floral carpet with a royal blue background, and a huge array of tables and spacious booths in a large dining room.
There's also a separate bar and lounge that hosts live jazz on Friday nights. On both of our visits, the restaurant was very busy, so perhaps it will fare better than its predecessors in the space, Cherry Blossom and Chi Chis.
C.J. Johnson opened this restaurant in September. The Passport moniker is reference to his motto: "Come and taste the world." His goal is to provide an international gastronomical experience, with food from different regions.
I found a heavy Asian focus, including an extensive sushi menu and many seafood choices. Even the more Americanized entrees, like lamb, chicken and beef, are prepared with Asian influences. Everything here is prepared with attention to detail, and all the dishes were a visual delight, including the potatoes, arranged pyramid-style and topped with a colorful assortment of shavings of carrots, zucchini and yellow squash. They accompany many of the entrees and were outstanding.
That same artistic flair returned at dessert, with the chocolate tower. Mousse is surrounded by a chocolate cage, adorned by bright red swirls on the plate. We enjoyed using our fork to break up the chocolate to get to the creamy center.
In the shrimp cocktail appetizer, four big pieces of jumbo shrimp adorned a sparkling martini glass, with fresh crab at the base along with a delicious chunky cocktail sauce made with capers and wasabi.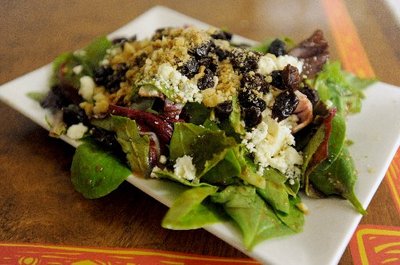 Angela J. Cesere | AnnArbor.com
The Paris crab quiche and salmon gravlax was a departure from the traditional pie-shaped concoction. Instead a mixture of crab meat, cream cheese and chives were placed into delicate won ton rolls, creamy, flavorful and were a delight. And I could have happily feasted on Passport salad, a healthful mix of fresh greens, Gorgonzola cheese, dried cherries and walnuts.
Asian minestrone was a miss. I didn't think it worked well combining the Italian flavorings and tomato base with the Asian tofu.
As for the entrees, the sea bass was excellent, where a cashew crust brought life and texture to the fresh fish. Asian accents provided great flavor to both the petite filet and the beef tenderloin, though the petite filet, at four ounces, is very small indeed. One of my favorites was the clam linguine, where seafood was laced throughout the pasta, along with clams in their shell. A light, creamy garlic sauce was a perfect complement and not too overpowering. Tuna Tataki was fine, but not outstanding, and could have used a better addition of seasonings and flavor. It was not among my favorite dishes.
RESTAURANT REVIEW
Passport Restaurant and Lounge
3776 S. State St.
734-222-1111
Passport Restaurant and Lounge in AnnArbor.com restaurant guide
Hours: Monday through Thursday 11 a.m.-11 p.m.; Friday and Saturday, 11 a.m.-2 a.m., kitchen closes at 11 p.m.; Sunday, 4 p.m.-11 p.m.
Plastic: Visa, Mastercard, Discover, Diners Club.
Liquor: Yes.
Prices: Moderate to expensive. Entrees range from $15-$29 and include potatoes and a vegetable.
Value: Very good.
Noise Level: Quiet.
Wheelchair access: Yes.
You can order your sushi cooked inside and out or just inside. I wasn't particularly impressed with the rolls we tried. The cucumber rolls were bland, while the King of the World rolls with shrimp and crunchy tempura tasted dry. The rainbow rolls, with each piece featuring a different type of fish, were better and had a bolder taste. On our second visit, the server forgot to deliver our sushi order, so I was unable to sample more.
The one item missing here is fresh bread. Even though it's Asian-focused and you don't typically get bread when ordering sushi, it would complement the heartier meat, seafood and chicken entrees. I got a crisp slice of bread, more like a cracker, with my pasta, but would have appreciated soft, crunchy spongy bread to soak up the sauce.
On our second visit, we finished off our meal with a wonderful wasabi cheesecake. Though I couldn't detect the wasabi seasoning and don't think it's even necessary, the creamy chocolate filling, served on a thick cookie crust, made for a wonderful finale to our meal.
Both times attentive servers brought our food in reasonable amount of time. The first time, the owner checked on all the tables to make sure we were satisfied. And we certainly were. Passport made a favorable impression on me.
Julie Halpert reviews restaurants for AnnArbor.com.