Posted on
Thu, Apr 18, 2013 : 10:09 a.m.
Patrick Elkins to bring shadow puppet show to the Ann Arbor District Library
By Ann Dwyer
He is the man behind the curtain. You might not realize it, but the artist who brings those delightful shadow puppets at the FoolMoon event is Patrick Elkins. Join him at the Ann Arbor District Library on Sunday for a Shadow Puppet Show.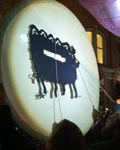 He will perform two short shows geared toward kids from kindergarten to fifth grade. The event is part of a series celebrating National Library Week.
Elkins is also a musician and performance artist. He travels the country with his shadow puppet shows, so he will most certainly put your barking dog hand shadow to shame.
For more information on this event, call the Library at 734-327-4555 or visit their website at www.aadl.org.
Sunday, April 21, 2013. 2-2:45 p.m. Free. The AADL is at 343 S. Fifth Ave., Ann Arbor.