Posted on
Thu, Feb 18, 2010 : 10:16 p.m.
Patti Smith shares stories and songs at Borders
By Will Stewart
Cliff Stevenson waited 30 years to tell Patti Smith how much she and her music meant to him as a teenager growing up in rural Ohio during the late 1970s.
Melanie Maxwell | AnnArbor.com
On Thursday, Stevenson waited another couple of hours in line at the Borders store in downtown Ann Arbor to do just that.
"It seems like a short wait in order to just let her know how important her music was to me then," said Stevenson, of Milan. "I guess it still means something to me, because here I am.
Honestly, it's just a thrill to be here and so close after so many years."
More than 200 people, from toddlers to teenagers to aging Baby Boomers, turned out to hear the punk rock pioneer, poet and cultural icon read from her new, best-selling memoir, "Just Kids," answer questions and even strum a few tunes during what amounted to an hour-long rap session that preceded a signing for the book.
For Ann Arborite Kathy Baker, a longtime fan who toted her Patti Smith LPs to the signing, it was both a chance to reconnect with an old favorite and take stock.
"I guess I sort of wanted to see how the years have taken care of her," Baker said.
Dressed in her standard uniform of jeans, T-shirt and frayed suit coat, Smith appears to have held up well. She was engaging, funny and even a little wistful during the session, recalling the years during the 1980s and 1990s, when she lived in southeast Michigan with her late husband, former MC5 guitarist Fred "Sonic" Smith, and the couple's two children. "It's always both exciting and poignant for me to be back in Michigan — especially Detroit and Ann Arbor — which were so dear to Fred," she said. "In Michigan, being a wife and mother, I found the discipline to spend the time that I could writing and creating.
"I learned the skills to get things done."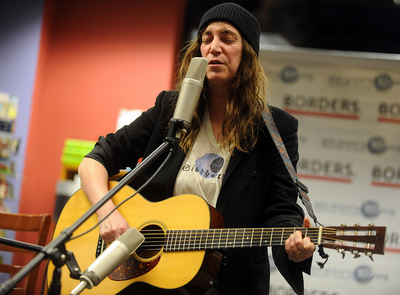 Melanie Maxwell | AnnArbor.com
The focus of Smith's session was the book, which recalls her early years in New York City during the 1960s and 1970s, where with her lover and muse, photographer Robert Mapplethorpe.
Mapplethorpe, the controversial photographer whose work was the target of a conservative backlash over the overtly sexual nature of his pictures, died in 1989.
"Fred Smith was the love of my life, but Robert Mapplethorpe was the artist of my life," she said.
For Claudia Leo, a musician and talent booker in Ann Arbor, Smith represents what a woman can achieve in the often male-dominated world of rock'n'roll.
"As a female musician in love with local music, Patti Smith makes a complete package for me," Leo said. "From the roots of the old-school New York City punk scene, to her marriage to Fred "Sonic" Smith and life in Detroit, to her performances with Allen Ginsberg at Hill Auditorium and her children growing up to be local musicians whom my bands have shared stages with, I'm glad to see Patti back in town.
"She reminds me of why I got into music in the first place — she's an inspiration and that's why I've always followed her work. I wouldn't miss her."
Will Stewart is a free-lance writer for AnnArbor.com.