Posted on
Sun, Apr 21, 2013 : 6:59 a.m.
Patty Larkin talks about new songs, life's challenges ahead of Ark show
By Martin Bandyke
I won't even pretend to be objective about Patty Larkin, the Cape Cod-based singer-songwriter in concert Thursday at The Ark. I'll just say that I think she's one of the best musicians in the known universe, her skills as a guitar player, songwriter and vocalist right up there with the likes of Joni Mitchell, Bruce Cockburn, Jonatha Brooke and John Gorka.
Back in my days as a music host at WDET-FM in Detroit, Patty stopped by the station in the fall of 1997 to perform "Wolf at the Door," the signature song from her then-new "Perishable Fruit" album. She proceeded to blow the roof off the joint by playing and singing a note-perfect, barn-burning version of the intricate track, one filled with fiendishly difficult acoustic guitar riffs and rapid-fire lyrics. One of those stunning moments I still remember as if it happened yesterday.
Fast-forwarding to 2010, Patty was the perfect choice to host that year's Ann Arbor Folk Festival, keeping the two-night event flowing smoothly with her wit, music, and expert timing. I recently caught up to this accomplished artist at a busy time in her life, filled with changes, challenges and—as always—music.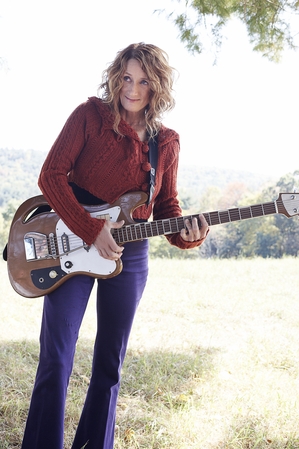 Q: What have you been working on lately? Will we see a new studio album this year?
Patty Larkin: Yeah, it's just finished as of yesterday. I did the album with Mike Denneen, who's worked a lot with Aimee Mann, whom I really love. He's a Boston-based producer, record company owner and has a great studio where I mixed my last four projects.
This time I didn't want to play everything again like I did on (the 2008 album) "Watch the Sky." I really had fun with Mike; he's really easygoing and has creative energy. There's a new drummer and bass player and a cellist on the record.
It's music from the last four years, and in that time life has run its course. I have a beautiful family with two little girls with my partner Bette (Warner), but I lost both my parents during that time. It was really an emotional time and some of the songs were so heavy I couldn't sing them initially. There are three different sections on the album. I thought of it as three suites of music: one is the winter suite—that struggle, the heaviness of it, and one is a dream suite of some beautiful, whimsical songs. I wrote them before I hosted the Ann Arbor Folk Festival.
And then there's the Peaked Hill suite, and those are songs I wrote at these dune shacks that are here on the outer shores of Cape Cod. There are these little structures built by beach-goers and artists and writers. There's nothing out there but a well and a kerosene lamp; it's a back to nature place.
Q: Was it cathartic to write these new songs? Did it feel better to write and sing about all these major life events?
P.L.: Definitely. It was cathartic to me, but the question was whether other people could relate to them. I had to weed through about 30 snippets of songs I had recorded during those years and determine what I wanted to use.
It was really hard to start this record. You go right back to that heavy place. Then you move into the beautiful pieces and that to me is moving as well. People would ask me if I had written any songs about my kids and I would say, "No, not really; I'm just trying to survive the process, working with a lack of sleep." But I did write "Because of This," a love song to my kids, where you can hear in my voice that I'm about to lose it halfway through.
I think I'm feeling lighter because I'm moving on. Now it's someone else's. To give these songs to someone else outside the house and have a co-producer like Mike was helpful and much more fun in a way. We have about three working titles for the album, one of which is "Still Green." It'll come out mid-to-late summer.
Q: Were your parents supportive of your career?
P.L.: They both were. My mom was my biggest fan; my dad loved music. Both of their mothers were musicians; one played for silent films in Chicago and the other was a choir director and organist. There was a lot of music around the house. What was hard for them was (understanding) my career. It took them a little while to figure out what kind of music I was doing. Once they got a handle on it and saw the scene and met Willy Porter and Bruce Cockburn and other people I was touring with and saw how audiences enjoyed this music they were really super supportive. They were always up for going to Madison or Chicago to see me play.
Q: You've long been associated with the Boston music scene, but you're from the Midwest originally, right?
P.L.: Yes, my parents met in Chicago but I was born in Des Moines. My older sister Kathleen's husband was from the Boston area and was going to Harvard Business School and they were having their first baby. I thought that I would move out there and check out Boston and maybe study some guitar at the Berklee College of Music, and I ended up staying. There was so much going on and I ended up getting involved with the traditional music scene and studying jazz and playing and writing folk music. I moved here in the mid-70s. I went to Berklee briefly and now I'm doing an artist in residency there.
Q: Are you really? Tell us more about that.
P.L.: I've been doing songwriting and guitar clinics for a long time there. I go up once a month for two full days and do a seminar with ten songwriters. Then this last week I went in for two twelve-hour recording sessions where we took two of the writers and recorded their songs. It's really fresh. They talk to me about their favorite songwriters and I realize all of my reference points are from the 2000's or more likely from the '90s—they were babies then. It's good to get their energy; they're super-psyched, they're super-scared and they're graduating and saying, 'Now what do we do?' They want to know, 'How did you do it? How did you put this (career) together for yourself?'
Patty Larkin performs at the Ark Thursday, April 25, at 8 p.m. Doors open at 7:30 p.m. Tickets and information available at www.theark.org.
Martin Bandyke is the 6-10am weekday morning host at Ann Arbor's 107one, WQKL-FM. Follow him on Facebook, Twitter and at www.martinbandyke.com.