Posted on
Thu, Oct 7, 2010 : 11:16 p.m.
Paul Taylor Dance Company finds beauty in light and darkness in Power Center performance
By Susan Isaacs Nisbett
Some artists look on the sunny side of life; others see only storms. But the great modern dance choreographer Paul Taylor, in a career spanning more than a half century, has looked both ways, sometimes all at once, making dances as devoted to darkness as they are to light.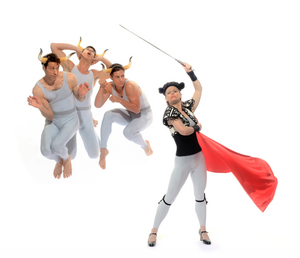 photo by Tom Caravaglia
Certainly we got both in equal measure on Thursday, when the Paul Taylor Dance Company, with the choreographer in attendance, opened three days of shows at the Power Center for the Performing Arts, under University Musical Society auspices.
Thursday, the exposure was sequential. With Taylor's "Speaking in Tongues" as the first half of the program and his "Esplanade" as the second, the evening was a journey toward the light.
Oh, there's light enough in "Speaking in Tongues," from 1988, but it's the light of threatening hellfire in this dance about religious fanaticism and hypocrisy. Lighting designer Jennifer Tipton outlines the Man of the Cloth (the charismatic Michael Trusnovec) in a sort of Satanic glow as he fills a doorway upstage; his dance, angular and stiff-legged as much as it is sinuous and curved over, make his body the vessel for all the conflict he contains — he's a sinner himself, yet righteous and rigid and seeking out sin in others. Matthew Patton's score, filled with snippets of evangelical sermons, and Santo Loquasto's set, with endlessly ascending walls faintly inscribed with mysterious brimstone warnings, suck most of the air out of the room in which the townspeople, the parishioners, dance their lives and histories till all end up prone, lying under folding chairs that seem like the lids of coffins.
It was a different matter when the company — dancing splendidly in this 55th anniversary season — returned after intermission for the joyous 1975 "Esplanade," set to the music of J.S. Bach.
With its vocabulary of everyday movements (taken to dizzying, daring heights), it's easy to put "Esplanade" — danced Thursday by Trusnovec, Annmaria Mazzini, Amy Young, Michelle Fleet, Sean Mahoney, Eran Bugge, Francisco Graciano, Laura Halzack and Jamie Rae Walker — into the "pure dance" category. But "Esplanade," like lots of "pure dance" dances, has a subject, and that subject is community.
Watch the little catch steps the dancers use to change directions in the first movement — they're just like the little catch steps you remember from childhood, when you'd throw one in to sync yourself with a friend's stride, so you could both put the same foot forward. Here, they're an invitation to follow the leader, to come along on an adventure in a new direction. Everyone seems happy to oblige.
A slow second movement has the dancers in sync but unseeing, temporarily blinded to each other's presence even as they move together. By the dance's end, though, harmony is restored, and trust, too, in deliciously spectacular fashion. The women hurtle themselves into the men's arms (in a revved up version of earlier lifts); the dancers run full-speed across the stage and throw themselves to the floor, and rise to do it again (in a revved up version of earlier falls). It's all thrilling, exhilarating and filled with hope, and as satisfying now as it was when Taylor first made it.
The remaining programs, Friday and Saturday evening, are filled with equally satisfying — and diverse — fare, older dances as well as very new ones. And a Saturday afternoon show for families, which includes dancers from the University of Michigan as well as Taylor's company, showcases Taylor's sly wit and choreographic invention. They're musts for fans of this great master of shadow and light and for anyone who loves great dancing.
Susan Isaacs Nisbett is a free-lance writer who covers classical music and dance for AnnArbor.com.
Paul Taylor Dance Company performing live in August: