Posted on
Sun, Apr 4, 2010 : 5:51 a.m.
Library names winners in Peeps photo contest
By AnnArbor.com Staff
There's something people just love about Peeps.
The annual Ann Arbor photo diorama contest, initiated by The Ann Arbor News, was this year adopted by the Ann Arbor District Library in cooperation with AnnArbor.com. And it drew well over 100 entries, displaying creativity and humor. The idea? Simply create a scene using Peeps, the marshmallow candies that make a return appearance in stores every spring.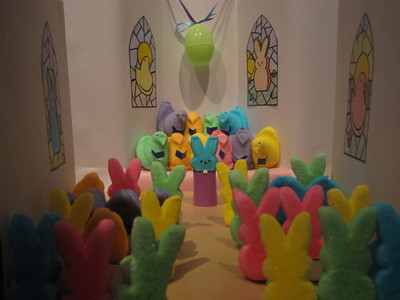 Entries were broken down into 6 age categories: preschool, grades K-2, grades 3-5, grades 6-8, grades 9-12, and adult. Judges were AADL Teen Services Librarian Erin Helmrich, who also coordinated the contest; teen author Lara Zielin, also editor of the LSA Alumni magazine at the University of Michigan; and Amy Sumerton, program director at 826Michigan.
Winners have been offered the chance to bring their entries in to the downtown library, 343 South Fifth Avenue, for display in the Youth Department during April. Photos of the entries can be seen in the following slideshows; the winners appear first in each slideshow. Click on an image to get the creator's name (and the creation's title, if any). After the slideshows is a full list of winners.
Preschool entries:
K-2 entries:
Grades 3-5 entries:
Grades 6-8 entries:
Grades 9-12 entries:
Adult entries:
Ann Arbor Peeps Contest results
Preschool winners
1st Place: Rosie Flynn
2nd Place: Serafina Sabatini
3rd Place: Nicholas Wade
Grades K-2 winners
1st Place: Elliot Varnum
2nd Place: Gram Brownlee
3rd Place: Danielle Hill
Grades 3-5 winners
1st Place: Loey & Walden Jones-Perpich
2nd Place: Joseph Weber
3rd Place: Elise Brod
Grades 6-8 winners
1st Place: Sofi St. John
2nd Place: Micayla Roe
3rd Place: Cecilia Roe
Grades 9-12 winners
1st Place: Kathrin Larson
2nd Place: Julia Markey
3rd Place: Annabel Weiner
Adult winners
1st Place: Henry James
2nd Place: Ben Dzialo, Robin Zdrodowski, Tim Zdrodowski
3rd Place: Christine Tupper
Feeling pepped up for more Peeps photos? Check out these submissions to other recent Peeps contests:
• Advantage Media Group Peeps Contest • Chicago Tribune Peeps on Parade • Denver Post Annual Peeps Contest • KIAH-TV Houston Peeps on Parade • Minnesota Pioneer Press Peeps Diorama Contest • My Central Jersey Primp Your Peeps • National Geographic Traveler Peeps in Places • Peeps Contest @ Blogspot • Pittsburgh Tribune-Review Peeps Show Contest • Racine Art Museum International Peeps Competition | More photos • Seattle Times Peeps Parade • Syracuse Post-Standard Peeps Contest • The Daily Journal Show Us Your Peeps • Washington Post Peeps Show
If you missed your chance to participate in the Ann Arbor contest or you just wanna give the experience another peep, "The Office" Peeps contest invites fans of the mockumentary TV show to submit season 6 scenes, Peeps-style, by April 17.
And if you're wondering what to do with those leftover Peeps, Martha Stewart is on the case with a Peep-Wreath Centerpiece.