with slideshows:

Library names winners in Peeps photo contest

Posted on Sun, Apr 4, 2010 : 5:51 a.m.
There's something people just love about Peeps.
The annual Ann Arbor photo diorama contest, initiated by The Ann Arbor News, was this year adopted by the Ann Arbor District Library in cooperation with AnnArbor.com. And it drew well over 100 entries, displaying creativity and humor. The idea? Simply create a scene using Peeps, the marshmallow candies that make a return appearance in stores every spring.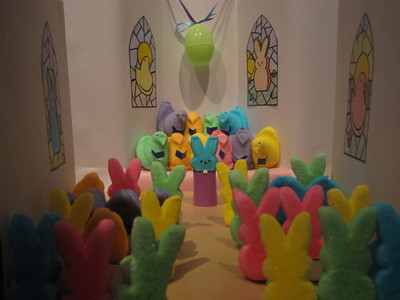 Entries were broken down into 6 age categories: preschool, grades K-2, grades 3-5, grades 6-8, grades 9-12, and adult. Judges were AADL Teen Services Librarian Erin Helmrich, who also coordinated the contest; teen author Lara Zielin, also editor of the LSA Alumni magazine at the University of Michigan; and Amy Sumerton, program director at 826Michigan.
Winners have been offered the chance to bring their entries in to the downtown library, 343 South Fifth Avenue, for display in the Youth Department during April. Photos of the entries can be seen in the following slideshows; the winners appear first in each slideshow. Click on an image to get the creator's name (and the creation's title, if any). After the slideshows is a full list of winners.