Posted on
Tue, Jan 22, 2013 : 10:47 a.m.
Penny Seats Theatre announces 2013 season lineup
By AnnArbor.com Staff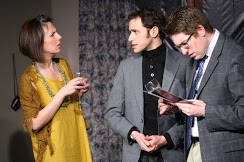 Photo by Dawn Marie Kaczmar
Fresh on the heels of a successful annual fundraising campaign that exceeded expectations, Ann Arbor's
The Penny Seats Theatre Company
- a community theater troupe - recently announced its 2013 season.
Beginning in March, The Penny Seats will offer a world-premiere staged reading of local playwright Russ Schwartz's new work, "Thorstein the Staff Struck," a postmodern, irreverent spin on Scandinavian legend. The performance is scheduled for March 2 at 8 p.m. (with dinner at 7 p.m.) at the Arbor Brewing Company.
Directed by Jacqui Robbins, the piece promises to be a free-wheeling, rollicking experience. Robbins said in a press release, "I am so excited to be directing the most staged reading so far of 'Thorstein the Staff Struck.' … More than just a reading, this will be a chance for audiences to see the creative process, to see actors playing with a new script. … There will be much, much fun. And beer. And people hitting each other with broadswords."
Penny Seats president Lauren London said, in the same release, "I'm thrilled that this year we have the opportunity to showcase the work of an Ann Arbor playwright, and to do so in a fun, interactive, casual environment. Premiering local work has long been one of The Penny Seats' goals, and this represents our commitment to making it a reality. We hope to turn these events into a tradition, and we're thrilled to have Arbor Brewing Company as a venue and partner in the event."
Robbins, a published author and Yale-educated director who has helmed all three of the Penny Seats previous stage offerings, added, "For me (and for the Penny Seats), directing is such a collaborative process, it's a natural next step to be work-shopping new plays. … To be bringing all the creativity and humor and stage smarts of this cast to a new script, all in front of an audience, is so exciting."
Also, this summer at the West Park Band Shell, The Penny Seats will present the much-loved, though rarely performed, Neil Simon/Cy Coleman/Carolyn Leigh musical "Little Me." The show, which was originally choreographed by Bob Fosse, is perhaps best known for contributing the songs "I've Got Your Number," "Real Live Girl," and "The Other Side of the Tracks" to the catalogue of American pop standards and for comedian Sid Caesar's Tony-nominated turn playing six different characters.
London said, via press release, "Little Me is a treasure. I say this from rather a personal standpoint, as my mother played the soundtrack relentlessly during my childhood. But she did so with good reason: with an uproarious book by Neil Simon and music by Cy Coleman, the show sparkles with wit, sarcasm, and 60's-era charm. It's based on the 'biography' of a fictitious Hollywood star [as documented by Auntie Mame author Patrick Dennis], who climbs from poverty up the ladder of success, and it recounts all of her adventures and entanglements, including her six suitors, along the way."
Directed by Shannon McNutt, who has worked extensively throughout Southeast Michigan, teaches in Canton, and is a professional actress herself, "Little Me" will run from July 11-27 in West Park. All shows start at 7 p.m., with picnicking beginning at 5:30 p.m.
London added, "This show is a great fit for The Penny Seats. Its wry humor, superb music, and fun casting choices make it a standout. And as always, we're so grateful to the City and to What's Cooking Ann Arbor for partnering with us to present our summer show, complete with on-site pre-show picnicking."
Check The Penny Seats' website regularly for audition, casting, and ticket information as well as additional news about these upcoming productions: www.pennyseats.org.
Founded in 2010, PST consists of performers and players, minimalists and penny-pinchers, who think theatre should be fun and stirring, not stuffy or repetitive, and believe that going to a show should not break the bank, and that Michigan summer evenings beautiful. Thus, PST produces dramas and comedies, musicals and original adaptations, classics and works by up-and-coming playwrights. PST also provide cabaret shows, acting classes, and wacky improv evenings. And you can see any of PST's shows for the same price as a movie ticket.