Posted on
Mon, Mar 4, 2013 : 5:45 a.m.
Penny Seats Theatre presents world premiere staged reading of 'Thorstein the Staff-Struck'
By AnnArbor.com Staff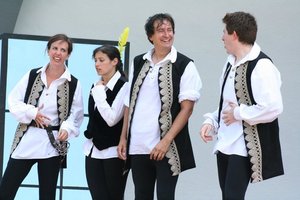 Photo by Dawn Marie Kaczmar
Penny Seats Theatre
will present a world premiere reading of a new play by Ann Arbor playwright
Russ Schwartz
on Saturday, March 2 at 8 p.m. (dinner at 7 p.m.) at
Arbor Brewing Company
.
There will be a talkback after the show, and tickets are available for $18 for both dinner and the show, or $5 for the show only. To order tickets online, visit www.brownpapertickets.com/event/328226 or www.pennyseats.org. For more information by phone, call 734-276-2832.
What's the play about? In the year 1050, a young man leaves a drunken brawl with a nasty cut and a nastier nickname. While the former heals, the latter spreads, and before long, his blind, cantankerous Viking father has cajoled him into avenging the insult. Thorstein's next move places him in direct conflict with local boss Bjarni, who would like to give the kid a break, but - as he is constantly reminded by his sharp-tongued wife Rannveig - he is not in a position to back down. Murder, treachery, song, low cunning and strange cooking habits are all part of the journey to a tricky negotiation at swordpoint.