Posted on
Sat, Oct 2, 2010 : 5:08 a.m.
U-M Department of Theatre and Drama feasts on David Edgar's 'Pentecost'
By Jenn McKee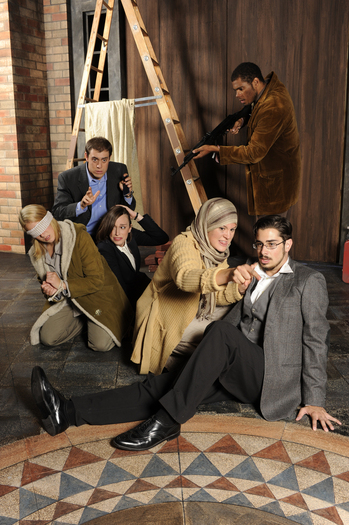 photo by Peter Smith Photography
Given the title of David Edgar's drama, "Pentecost" — now being staged by the University of Michigan Department of Theatre and Drama — it's not surprising that U-M's student performers have found themselves with foreign words on their tongues.
For in the Bible, Pentecost marked the visitation of the Holy Spirit upon Jesus' disciples following the resurrection, at which time the apostles spoke in tongues, and the people of the world heard the voices in their own language.
In Edgar's drama, art historians from different parts of the world gather in a medieval church in Eastern Europe, after the fall of Communism, to see and discuss a mural that just might change everything we think we know about Western art, as well as the country's sense of its own identity. But when several nomadic refugee terrorists arrive, hoping to leverage the mural for a safe place in the world for themselves and their families, questions about the value, ownership, and intrinsic power of art come into play.
With 24 characters, "Pentecost," while critically lauded by many, is a show you won't often see produced. Director Malcolm Tulip was first introduced to the show during a residency at Iowa State University, when students there were in early preparations for the play.
"They were walking around the campus with foreign languages coming out of their mouths," said Tulip (who never got to see ISU's production).
After finding out more about the play, and doing some research, Tulip tucked away the idea to one day stage his own production.
"It was just so culture-rich," he said. "It's really an ideal play for a university."
PREVIEW
Who: University of Michigan Department of Theatre and Drama.
What: Prolific British playwright David Edgar's drama — commissioned by the Royal Shakespeare Company — about a collection of art historians and nomadic refugees who, in the 1990s, converge on a medieval church in Eastern Europe, where a mural could alter the history of western art and the country's national identity.
Where: Arthur Miller Theatre, 1226 Murfin Avenue.
When: Thursday at 7:30 p.m.; Friday-Saturday at 8 p.m.; Sunday at 2 p.m., October 7-17.
How much: $24. For tickets, visit the League Ticket Office, or call 734-764-2538, or visit the U-M Theatre website.
This is, in part, because the global issues "Pentecost" explores are still relevant. Eastern European countries are still struggling to define their identities; and Tulip pointed out that France's president, Nicolas Sarkozy, and Italy's prime minister, Silvio Berlusconi, are two world leaders who have been cracking down on homeland-less Gypsies like the ones that appear in "Pentecost."
"One of the big issues in the play has to do with the creation of refugees," said Tulip. "Why it happens, how it happens, what lengths countries go to to avoid receiving those refugees presently in our current world."
But that's not all "Pentecost" explores.
"There are a lot of different strands in there," Tulip said. "It's about Eurocentric culture — the attempts of this Eurocentric culture to colonize the world, and the consequences of that on these other cultures. It's about how other countries have to fight to be recognized for having their own culture. … And it's about how language can be such a barrier — not just in terms of a first, basic level of understanding, but in terms of a greater cultural understanding. … It's almost as if language has to become nonsensical, and all meaning lost, before understanding can be re-gained."
When the play premiered in 1995, much attention was paid to its exploration of language and art. But Tulip remarked that "Pentecost" is "a very active play," with a plot largely driven by suspense.
But the different languages involved, obviously, created significant challenges for the actors. Thanks to Tulip's friendship with a professor of Slavic languages, speakers of the various represented languages were tracked down and recorded speaking Edgar's lines of dialogue. Tulip posted these as audio files over the summer so that his students, who were cast in their roles before summer break, could listen to the lines on their iPods.
Plus, when Edgar visited U-M last spring with select members of the Royal Shakespeare Company — which originally commissioned "Pentecost" — he talked with the students who would be bringing his work to life once more.
"He's a fascinating man to listen to," said Tulip. "He knows a lot about a lot."
Jenn McKee is the entertainment digital journalist for AnnArbor.com. Reach her at jennmckee@annarbor.com or 734-623-2546, and follow her on Twitter @jennmckee.