Posted on
Tue, Nov 13, 2012 : 5:53 a.m.
People Dancing combining the new and the familiar for fall concert
By Susan Isaacs Nisbett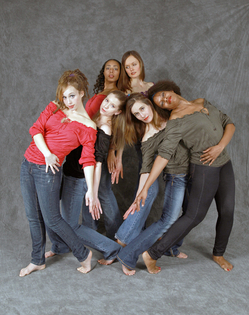 photo by Glenn Bering | courtesy of People Dancing
Don't think you've arrived late if you walk in on a dance-in-progress at the Pinocchio Theatre at the Vitosha Guest Haus Saturday or Sunday.
It's all part of the plan when People Dancing, the Ann Arbor-based modern dance company headed by Christina Sears-Etter, presents "Suite Pairings: All Live Music and Dance," its fall concert.
The space—a large hall that, in this historic home's previous incarnation, housed an organ and served as a gathering space for Unitarian church worshippers—is unconventional and flexible as theater space, and that's exactly how Sears-Etter and company will use it.
"It doesn't look like a proscenium or black box theater," Sears-Etter said. "It's a creative reuse of the space, with a small stage and then a large hall area. We'll be using different areas of the hall for performance."
The hall seats about 100 people, she added.
As always with this modern-dance company, the participating choreographers, dancers and artistic collaborators vary with the season and the event.
The fall 2012 iteration of the company includes new music and new dances, reworkings of older pieces and, of course, faces familiar and unfamiliar to local dancegoers.
PREVIEW
People Dancing
Who: Ann Arbor-based modern dance company.
What: "Suite Pairings: All Live Music and Dance," a fall concert of modern-dance works mostly set to live music.
Where: Vitosha Guest Haus, Pinocchio Theatre, 1917 Washtenaw Ave.
When: Nov. 17-18, Saturday, 7:30 p.m.; Sunday, 2 p.m.
How much: $15 at the door ($25 with Saturday after-glow reception). Children under 13, $10. Doors open 15 minutes before each performance. Open seating. For more information, visit peopledancing.org, or call 734-368-7573.
To start, there's that dance-in-progress, "Matrices," a live improvisational composition by the multi-talented Robert Spalding Newcomb, who will be playing the work as the dancers explore its spatial, dynamic and algebraic ideas in the hall's space.
Choreographer Adesola Akinleye, who's work was seen in town recently as part of Ann Arbor Dance Work's "Corsets, Grains and Greenways: Dancing Downtown Ann Arbor," brings her unique voice to "Two Children's Stories," a quartet to music by Eddi Reader and Bob Dylan, that engages the audience in an active capacity.
Akinleye is a newcomer to the Ann Arbor dance scene; Noonie Anderson, who's "Requiem' also figures on the program, is a veteran. For this show, she's reconstructed this 2011 work, which is set to both recorded music (by Rob Dugan) and live music for trumpet (by Ken Kozora).
Lisa LaMarre, who with her company is making a mark on the Detroit dance scene, is also on hand with a duet, "Five," choreographed and performed by LaMarre and company dancer Rachael Harbert. Doubling the pleasure once over is live music by James Cornish and ensemble.
Artistic Director Sears-Etter contributes two works.
In the something old category is "Too Many Goodbyes," which she first presented many years ago at the Merce Cunningham studio in New York. It makes its Michigan debut this weekend, with live music - Chopin, with Wayne State University pianist Justin Kerman—and with dancers LaMarre and Amy Hutchinson.
"Sylph Remix" is Sears-Etter's new work, a trio exploring the psychology of romanticism.
To close it all is another improvisation, "Tea Ceremony," with live bamboo flute and frame-drum music from Kozora, that the company has had in repertoire since 2009.
Making good on concert's promise of live music as well as dance, the program also includes live-music interludes, including an appearance, Sunday only, by flutist Sherry Young.