Posted on
Sun, Nov 21, 2010 : 12:50 a.m.
People Dancing celebrates 25 years at WCC
By Susan Isaacs Nisbett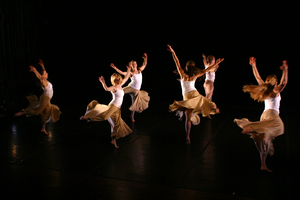 photo by Tom L. Smith/Lightstream photography
Anniversary parties are generally friends and family affairs, and People Dancing's Silver Jubilee 25th Anniverary concert this weekend at Towsley Auditorium, on the Washtenaw Community College campus, had much of that feeling.
But People Dancing, a local modern dance consortium directed for the last 10 of its 25 years by Christina Sears-Etter, marked its longevity by celebrating not so much its mature generation but an up-and-coming one. That formula had rewards as well as drawbacks for a member of the general public unconnected to the company. A number of the dances on the program, which I saw Saturday evening in the last of two performances, featured still-developing dancers, some of whom are members of People Dancing's new Movement Artists Guild. Talented, but not yet professional in presence or technique, they impressed for what they may become.
The two pieces that opened the show were Sears-Etter's "Les Sans Souci" and her "Skye woman, Earth echo," in which Alayna Baron and Mari Pando Girard danced on pointe to an interesting, breathy score that Sears-Etter made along with Pamela Meisel. (A shirred rear stage curtain did not help the evening out in this respect.)
In the second part of the program's first half, Sears-Etter appeared on stage, coiling across it rivetingly as behind her, on screen, ghostly figures danced in woods and by the shore in her "Bedrift." The score, by Ken Kozora, was evocative and mysterious, and Thomas Cocco's video editing gave much the same mood to the video backdrop, shot in Italy by the Tyrhenian Sea.
"Our Source," a quartet from a larger work by guest choreographer Lisa LaMarre, brought the first part of the program to a strong close. Alternately roiling and robotic, inexorably drawn toward a light that shines in from the side like a beacon, dancers Alan Horn, Chelsie Jackson, Melissa Philips and Megan Montgomery gave a convincing performance in the piece. They made you want to see more.
In the show's second half, a little less would have been good in "Colour Obscura," a digital work by Steve Joslin (who also made the score for "Les Sans Souci"). I'm not sure exactly what his tools were, but it looked as if he was Skyping an iPod flashlight application on a computer that then projected the changing colors on a big screen as we heard a nifty score he'd composed. It was fun … but not for as long as the work went on. Alejandro Guerrero also provided another musical interlude (the guitar solo "Watermelon Seed") while behind him, on the big screen, we saw shots from old family movies and scenes of flowers and fields — all seemingly watched (and reacted to) by dancers on the screen. The visuals and dancing were uncredited and rather diffuse.
More succinct were two works by Sears-Etter, "Metal in the Mirror," in which she was one of three dancers along with Jennifer Colwell and Erin Nelson, and "Dollhouse, revisited," made for the Movement Artists Guild and for which she won the 2010 Maggie Allesee New Choreography Award. The dancers gave a vigorous performance of "Dollhouse," conveying what seemed to be an impassioned rejection of '50s stereotyped roles for women — who needs an apron, anyway? they seemed to say.
The program closed with a giggle of a dance, guest choreographer Robin Wilson's "Feets!" The dancers — Jennifer Burke, Joy Morris-Rakowski and Sears-Etter in addition to Colwell and Nelson — literally kick up their heels, and toes in this charming, fleet ode to twinkling tootsies.